Saudi Arabia and China have been growing closer for years, and the news comes at a time of frustration among Gulf states with the US.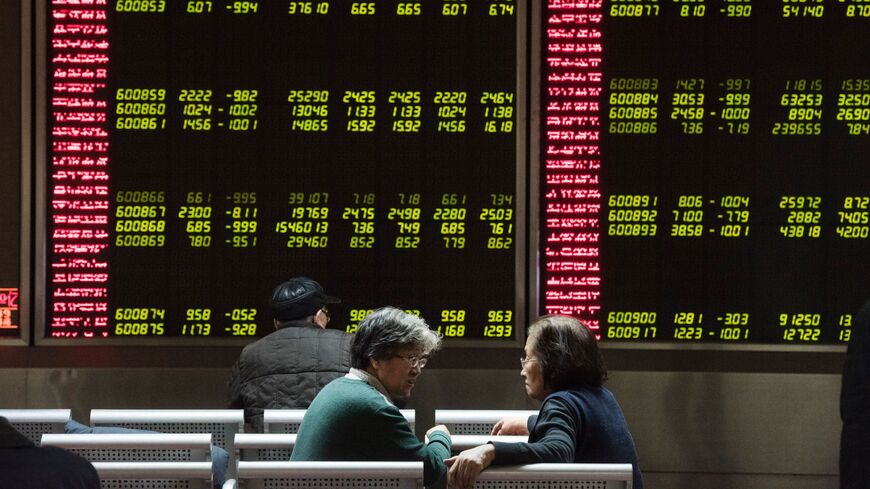 Investors look at screens showing stock market movements at a securities company in Beijing on Jan. 7, 2016. - FRED DUFOUR/AFP via Getty Images

Saudi Arabia is reportedly considering accepting China's currency for some oil purchases.
The Wall Street Journal reported today that Saudi Arabia and China are in "active talks" to price some Saudi oil sales to the People's Republic in yuan instead of the US dollar.
The talks have been happening for six years, but have "accelerated" recently due to Saudi concerns about US security commitments to the kingdom. Saudi leaders are particularly upset about the Biden administration's position on the Yemeni civil war, the Iran nuclear deal talks, and the chaotic US withdrawal from Afghanistan, according to the outlet.
Saudi Arabia and the United States agreed in the 1970s to price oil sales in US dollars, which helped establish the dollar as the dominant reserve currency around the world.
If Saudi Arabia accepts payments in yuan, it could dent the dollar's supremacy. But some analysts think the impact may be minimal. China has already been selling future oil delivery contracts in yuan without a major effect on the world economy, according to Marc Chandler, the chief market strategist for Bannockburn Global Forex, which helps businesses, banks and funds with foreign currency positions.
"China has had a yuan-denominated oil futures contract for more than a year. It has not made a difference globally," Chandler told Al-Monitor.
The foreign exchange market is $6.6 trillion a day, Chandler said, and "the dollar is on one side of more than 80% of the trades."
"I do not think that this is earth-shattering, but many will make a big deal about Saudis considering taking CNY (yuan) for oil sales to China," he said.
US-Saudi tensions — in addition to the Russian invasion of Ukraine — have had a major effect on the global oil market recently. Last week, Saudi's Gulf ally the United Arab Emirates said they would abide by the gradual supply increases endorsed by the Organization of the Petroleum Exporting Countries (OPEC) and Russia.
The Biden administration has been asking world oil producers to increase production to bring down soaring oil prices. Saudi Arabia, which is the biggest producer in OPEC, has so far refused.
An analyst told Al-Monitor last week that OPEC members are wary about the Biden administration's efforts to contain Iran, and that this is affecting the oil supply discussions.
Saudi Arabia is not the first Middle Eastern state to consider dumping the US dollar for oil purchases. Iraq under Saddam Hussein decided to price oil in euros instead of dollars before the 2003 invasion. Libyan ruler Moammar Gadfhafi also supposedly proposed using gold to buy oil in 2009 — two years before the NATO-backed uprising that ended his reign. Both events have led to numerous conspiracy theories.
The price of Brent crude oil also fell to below $100 today for the first time all month. However, the drop occurred before the report on Saudi Arabia, according to MarketWatch. Brent crude oil is widely considered the global benchmark for oil prices.
Saudi Arabia and China have been growing closer economically for several years. Most recently, Saudi oil giant Aramco agreed last week to build a major refinery facility in China.