A suspension of Repsol's refinery is among the punitive measures that Peru is considering in response to a damaging oil spill last week.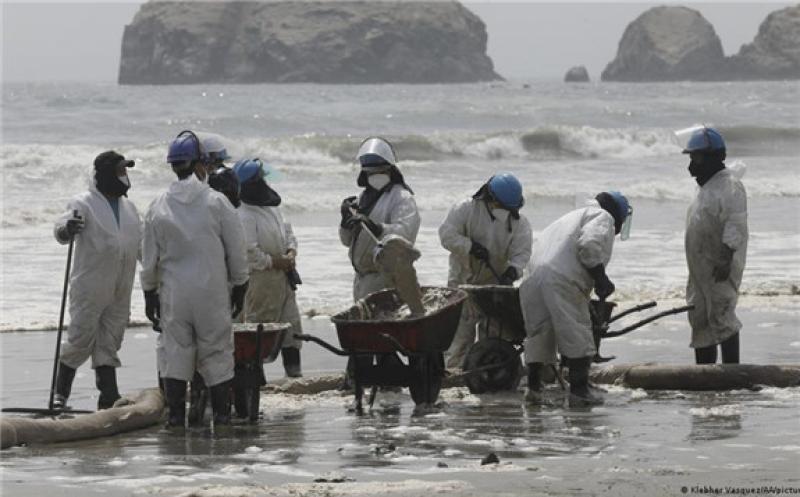 The 15 January spill occurred during the unloading of a crude tanker at a multi-buoy mooring system associated with Repsol's 117,000 b/d La Pampilla refinery outside Lima. According to the environment ministry, 6,000 bl of crude has sullied close to 2km2 of shoreline and 8km2 of ocean, disrupted commercial fishing and harmed marine life.
The Spanish company initially reported a negligible spill, blaming small tsunami waves caused by Tonga's volcanic eruption and Peru's navy for failing to issue a warning.
The government had accepted the initial report but has since stepped up its rhetoric as the spill's devastating impact comes to light.
It ordered the mooring system closed and prohibited the Italy-flagged Suezmax Mare Doricum from setting sail. Shipowner Fratelli d'Amico Armatori said it immediately stopped pumping when the spill was detected. It blames a pipeline leak and denies any responsibility.
The environment ministry says it is preparing to issue fines.
At a meeting with fishermen today after visiting the site, President Pedro Castillo warned Repsol over the "ecological and economic disaster".
"I confirm the government's commitment not only to penalize, but also to hold the company responsible. They have to pay for damages to the population and remedy the harm caused to the sea and nature," he said.
Congressmen of his Peru Libre party want the government to revoke Repsol's contract for the refinery, which the company acquired from the state in 1996.
Given Peru's limited domestic fuel supply options, a shutdown of La Pampilla would translate into more imports. State-owned PetroPeru's 65,000 b/d Talara refinery has been closed for two years while it undergoes a $5.4bn upgrade. PetroPeru's 12,000 b/d Conchan refinery is too small to compensate.
In a local media broadcast, prime minister Mirtha Vasquez said the government is evaluating its legal options. "We cannot say whether (La Pampilla's) operating license will be suspended."
Repsol says it has more than 1,000 people working on remediation. In a 23 January televised interview, Repsol Peru chief executive Jaime Fernandez-Cuesta conceded that the company could have reacted faster, but was doing everything it could to contain the damage.
Repsol is a minority partner in Peru's Camisea natural gas complex and operates gas block 57, adjacent to Camisea. Camisea's two blocks and block 57 accounted for nearly all of Peru's 1.1bn cf/d gas production in 2021.