Oil and gas companies have submitted offers for available offshore exploration blocks in Australia's 2021 licensing round, with notable interest in deep-water permits off the south-east coast.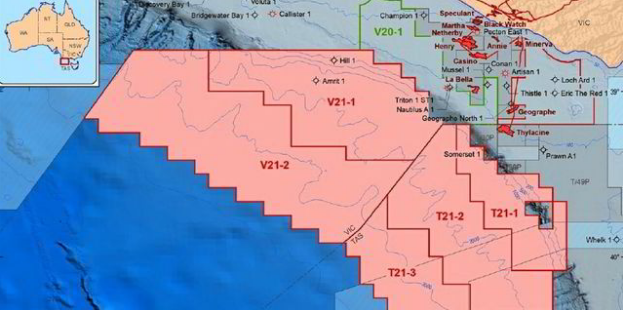 The Australian government on Tuesday said it had received 10 bids for nine blocks; the number of bidders was not disclosed.

Offshore Western Australia, one permit is in the Bonaparte basin, one is in the Browse basin, one is in the Dampier sub-basin and one in the Exmouth Plateau.

Offshore Victoria, in the Otway basin, there are two permits in deep water; one starts at about 200 metres water depth and extends to the 2000-metre mark, and the other goes beyond the 3000-metre mark.

Offshore Tasmania, also in the Otway basin, there are four permits in which the outer permits extend to very deep water.

The 2021 licensing round comprised 21 blocks.

The National Offshore Petroleum Titles Administrator (Nopta ) is now assessing the bids received.

Minister for Resources and Water Keith Pitt said the areas that received bids have the potential to link with existing infrastructure and supply major liquefied natural gas projects.

"Solid interest in areas in the Otway basin offshore Victoria and Tasmania will also support the East Coast gas market and the thousands of jobs and businesses that rely on secure gas supplies," said Pitt.

He added that maintaining exploration is critical to ensure an ongoing pipeline of new oil and gas projects, and for Australians to have access to reliable and affordable energy.