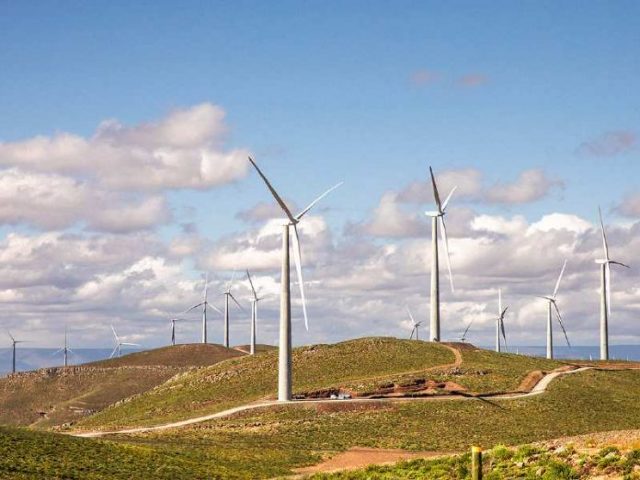 The Roggeveld wind farm in South Africa. Source Red Rocket

African independent power producer Red Rocket has announced commercial operations of its first wind farm in South Africa, Roggeveld, now feeding much-needed electricity into the grid.
The project that is situated on the border of the Northern and Western Cape Province, South Africa, has an installed capacity of 147MW and a contracted capacity of 140MW.
The project milestone will effectively near double red Rocket's project asset base. Its renewable energy projects in operation, under construction, or awarded preferred bidder status across the continent now total 750MW.
The Roggeveld wind farm's shareholding is held in majority by Red Rocket and AIIM's IDEAS Fund via a holding company (51%). AIIM (a member of OMAI) funded the holding company's equity investment in the Roggeveld wind farm through its IDEAS fund.
Roggeveld Wind Power was awarded preferred bidder status under Round 4 of South Africa's Renewable Energy Independent Power Producers' Procurement Programme (REIPPPP). The project reached the peak of its construction as the COVID-19 pandemic took hold globally, and the build was halted for a short period in adherence to COVID restrictions, said Matteo Brambilla, CEO of Red Rocket.
"While COVID had impacts on our construction by reaching COD, we believe that we have evidenced our determination to deliver clean energy and meaningful economic participation for the communities we serve," added Brambilla.
Reyburn Hendricks the CEO of H1 Holdings, a 100% black-owned infrastructure, investment, and development company that has partnered with Red Rocket on three renewable energy projects echoes Brambilla's sentiments.
"Together with Red Rocket, H1 is actively working towards contributing to meeting South Africa's commitment to a low-carbon energy system," said Hendricks.
Also noteworthy is the participation of the Public Investment Corporation (PIC) which funded shareholding on behalf of the Government Employee Pension Fund (GEPF). Through its involvement, the PIC undertook its first direct equity investment in a wind farm, which adds to its portfolio of mainly solar PV and CSP technology plants.
Tshepo Rachidi, Associate Energy Fund Principal for Impact Investing at the PIC explained that the investment "aligns with a greater focus of meaningful investments that yield reduced environmental impacts while delivering real economic and social returns. Alongside my colleagues, Winni Setshedi and Refiloe Morailane, this 7-year journey for the actualisation of Roggeveld also bears testament to all stakeholders' existing, unwavering commitment to alleviating the current national energy struggles".