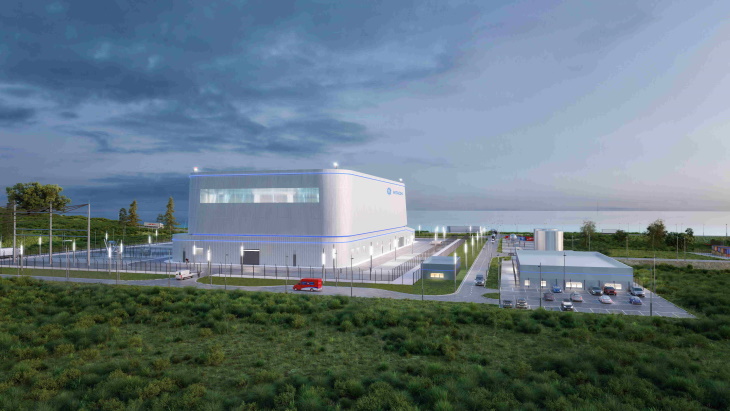 A rendering of a plant based on the BWRX-300 (Image: GEH)
A Memorandum of Understanding has been signed between Kärnfull Next and GEH for the BWRX-300, a 300-megawatt water-cooled, natural circulation SMR with passive safety systems. The design is based on GEH's US-licensed, 1520 MWe Economic Simplified Boiling Water Reactor design. The BWRX-300 has already been certified by the US Nuclear Regulatory Commission and is currently undergoing a Canadian Nuclear Safety Commission pre-licensing Vendor Design Review.

Kärnfull said GE Hitachi has been selected as technology supplier to begin the process of establishing a number of small modular reactors in the region as soon as possible. It said the BWRX-300's smaller size creates greater flexibility and carbon-emission free and reliable production of electricity, heat or hydrogen where it is needed.

The company noted that work has already begun with a "handful of interested parties" throughout Sweden, but for these new reactors to become a reality, current legislation will need to be reviewed.

Gothenburg-based Kärnfull Next said it will now undergo an intense period of recruitment alongside discussions with suppliers. Preparations of the planned development sites around Sweden will continue in parallel with investor discussions, it added. Kärnfull has secured initial funding from Corespring Invest, an investment portfolio with a long track record of successful investments in cleantech and fossil-free energy sources. The portfolio is managed by Granitor Growth Management.

"It's in our company's DNA to break new ground and today's launch is a natural step, not least since we see the growing demand for our nuclear-only electricity contracts provided via our brand Kärnfull Energi," said Kärnfull co-founder John Ahlberg.

"That we're now able to take an active role at the cutting edge of nuclear energy supply is incredibly exciting. We've chosen our partners carefully to build a reliable supply chain that will allow us to deliver cost-effective and timely fossil-free energy."

"Throughout the winter we've all seen the importance of a reliable, dispatchable electricity production that can deliver when and where it is needed," added Kärnfull co-founder Christian Sjölander.

"In addition to electricity, we're able to deliver inertia and other stability services to the national grid, as well as fossil-free heat and hydrogen. The commercial demand will determine how to make best use of these units, their flexibility combined with the high output is key to their cost effectiveness. These reactors are designed to deliver around the clock, all year round, whatever the weather."

Four of Sweden's six operating nuclear power reactors are boiling water reactors (Forsmark units 1 to 3 and Oskarshamn unit 3), as are five of the country's eight reactors in decommissioning.

"Sweden has significant experience with nuclear energy, and especially boiling water reactor technology," said Jon Ball, executive vice president for GEH. "As industry and investors join forces to accelerate the energy transition, global interest in the BWRX-300 is rapidly growing and we are excited to be working with Kärnfull to bring this technology to Sweden."

As project development company, Kärnfull Next will manage the various sub-contractors and development phases such as licensing, environmental issues, permits, financing and local government relations.

"With the finance, knowledge base and technology to meet the real world need for more on-demand fossil-free energy, the company is looking forward to the work ahead as they rebuild nuclear power in Sweden," Kärnfull Next said.

The Kärnfull Group launched Kärnfull Energi in August 2019, the first supplier in Sweden and Denmark to offer 100% nuclear electricity contracts to households and small-to-medium businesses.