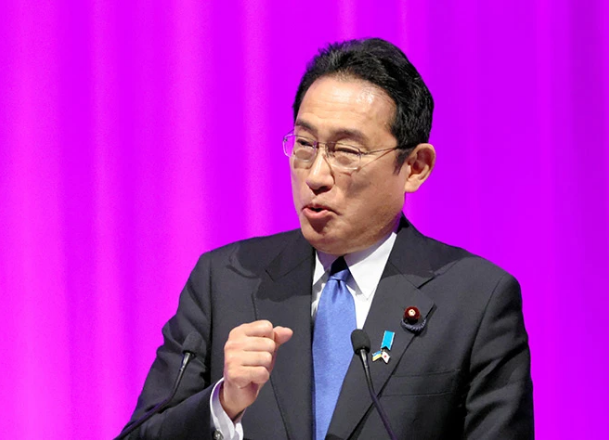 Prime Minister Fumio Kishida at a meeting of his Liberal Democratic Party in Tokyo on March 13. (Tatsuya Shimada)
Japan will ask oil producing countries in the Middle East to ramp up production in the face of surging prices triggered by Russia's invasion of Ukraine, Prime Minister Fumio Kishida said March 13.

"I am ready to lead diplomatic efforts myself to secure supplies from oil producers in the Middle East with whom Japan has maintained steady ties with regard to natural resources," Kishida said at a meeting of his Liberal Democratic Party in Tokyo.

He also said the government will provide subsidies to oil distributors to prevent the national average of gas prices from rising above the current level of 172 yen ($1.48) per liter. The subsidies were raised to 17.7 yen per liter on March 10, up from 5 yen per liter before.

Kishida also said the government will diversify energy sources and their suppliers to help Japan become more resilient in energy crises.

But he reiterated that the government will not join the United States and some European countries in imposing sanctions against Russia hitting Russia's energy sector.

"We stand firm against Russia's aggression, but we also need to protect Japan's national interests in securing energy supplies," he said.

The United States has banned imports of crude oil, natural gas and coal from Russia, expanding an array of punitive measures to cover the energy sector, which forms the core of the Russian economy.

Japan relies on Russia for about 8 percent of its natural gas needs and about 4 percent of its crude oil needs.