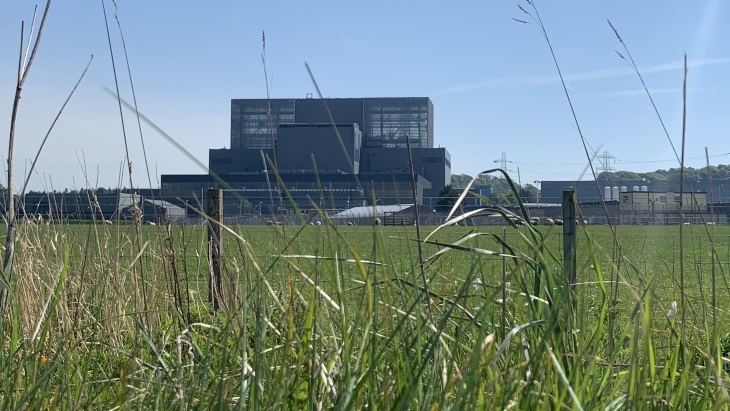 Power generation ended at Hunterston B in January (Image: EDF Energy)
The study notes that the current perception is that "hosting a first generation nuclear site appears to the public to leave a permanent nuclear legacy, with an added consequence of sizeable concrete structures forever populating the landscape".

It says that the last UK nuclear site to be opened was at Torness more than 40 years ago, but with the planned three waves of future nuclear power to come, new sites will be required, so gaining community backing will be crucial in areas with "no experience of (or vested interest in) a new local reactor".
It means, says the study, that there should be a change in mindset from "build, operate, decommission, add to the legacy" to "build, operate, decommission, remove, re-use".
The current progress being made using a "consent-based" process to find areas keen to host a geological disposal facility (GDF) is also highlighted as having lessons for the future process of gaining regional consent for new nuclear energy sites.
Professor Francis Livens, director the institute, said the UK's ambition to achieve net zero by 2050 was "an enormous undertaking" and "for an expansion of the necessary scale, the limited number of nominated nuclear sites in the UK is insufficient".
"Delivering on these ambitions will therefore require new nuclear sites to be identified, and new communities to accept the presence of nuclear facilities … we must aim to understand the whole nuclear lifecycle, and the societal context in which it exists, if we are to make the right decisions."
The report includes nine key recommendations:
Recommendation one: The UK government should develop an integrated framework for delivery of nuclear energy in the UK to ensure the whole lifecycle is understood.
​Recommendation two: The UK government should integrate the NDA mission into this framework, supporting waste management and site clearance for reuse.
Recommendation three: The UK's existing regulatory arrangements are robust and any technology deployed in the UK should conform wholly to those requirements. However, interpretation of concepts like 'no danger' should be rational and risk-based, and avoid limits which are disproportionate to any other area of regulation.
Recommendation four: The UK government should re-examine the current, very broad definition of Intermediate Level Waste to consider whether more optimal routing of waste streams can be progressed to appropriate end points.
Recommendation five: The UK government should develop an integrated strategy for management of spent fission fuel from a range of operators and technologies.
Recommendation six: To support a Three Wave nuclear fission programme, a significant study of stakeholder views and values should be undertaken to update the findings of the BNFL National Stakeholder Dialogue and reflected in the BEIS (UK Department for Business, Energy and Industrial Strategy) Public Dialogue on Advanced Nuclear Technologies.
Recommendation seven: Within this framework, any nuclear development, fission or fusion, needs to define at the start the entire lifecycle of its technology and sites, and communicate this openly and effectively to current and potential future host communities and other stakeholders.
Recommendation eight: Any nuclear development should recognise the progress made using the GDF volunteer-based process, and the expectations for community participation raised by that process, alongside the challenges and timescales which are inevitably associated with open and effective community engagement.
Recommendation nine: The developers and operators should be actively involved in the evolution and promulgation of government frameworks and guidance, and all development activities should embody the principles and practices which are developed.