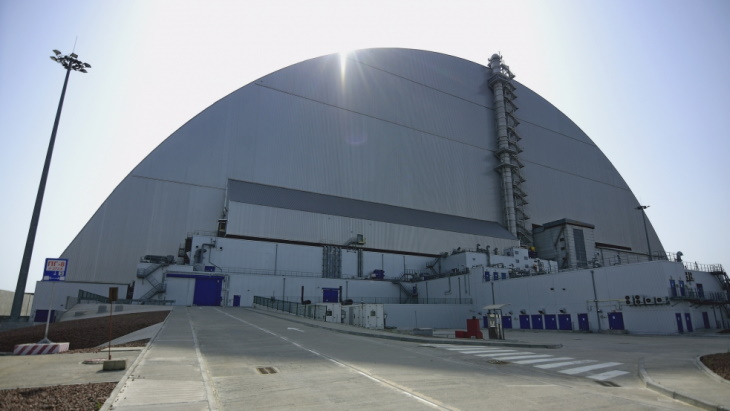 Part of the Chernobyl site, pictured before recent events (Image: Chernobyl NPP)
In a statement posted on its social media channels at 10:00 on Wednesday (08:00 GMT) Ukraine's nuclear power plant operator Energoatom said existing plants were operating stably and providing enough electricity for the country's needs. Radiation levels remained within current standards, it added.
It said that at the country's largest nuclear power plant, Zaporozhe, which has been under Russian control for five days, there were 50 units of heavy equipment, 400 military staff and "lots of explosives and weapons".
"And although our NPP personnel work at all six power units, the station management is forced to coordinate all technical issues with the occupiers," the company said.
It said that unit 6 at Zaporozhe was put into emergency repair on Monday because of damage to the block transformer during shelling.
The State Nuclear Regulatory Inspectorate of Ukraine (SNRIU) said that the country's four nuclear power plants were operating safely and with radiation within normal ranges.
The situation at the Chernobyl site is continuing to concern SNRIU, with the loss of automated monitoring systems making it "impossible" to exercise regulatory control over nuclear and radiation safety there. Energoatom also reported on 9 March that the main power supply to Chernobyl was no longer operating.
SNRIU said that the loss of power from the 750 kV high-voltage line to the area happened at 11:22 on Wednesday, with the on-site emergency diesel generators activated "to power systems important to safety". It said a loss of power made "it impossible to control the nuclear and radiation safety parameters at the facilities", adding that repairs to restore the area's power supply could not happen at the moment because of "combat operations in the region".
In response to the reported loss of power to the site, the International Atomic Energy Agency (IAEA), issued a brief update on Twitter, saying that the development "violates key safety pillar on ensuring uninterrupted power supply" but added that "in this case IAEA sees no critical impact on safety". "IAEA says heat load of spent fuel storage pool and volume of cooling water at Chernobyl Nuclear Power Plant sufficient for effective heat removal without need for electrical supply."
In its most recent full update, on 8 March, the IAEA said it had been told that it was "increasingly urgent and important for the safe management" of Chernobyl to rotate some of the 210 technical personnel and guards who have been working there since Russian forces took control of the site two weeks ago.
The regulator also told the IAEA that the handling of nuclear material at Chernobyl had been put on hold, and said it could only communicate with staff there by email.
"I'm deeply concerned about the difficult and stressful situation facing staff at the Chernobyl nuclear power plant and the potential risks this entails for nuclear safety. I call on the forces in effective control of the site to urgently facilitate the safe rotation of personnel there," IAEA Director General Rafael Mariano Grossi said.
The director general restated his offer, made initially on Friday, to travel to Chernobyl or elsewhere, to meet the two sides for talks to secure agreement on measures to protect nuclear sites and facilities.
Russian Foreign Ministry spokeswoman Maria Zakharova was reported on 9 March by TASS news agency as saying Russia was doing everything to ensure the safety of nuclear facilities in Ukraine.