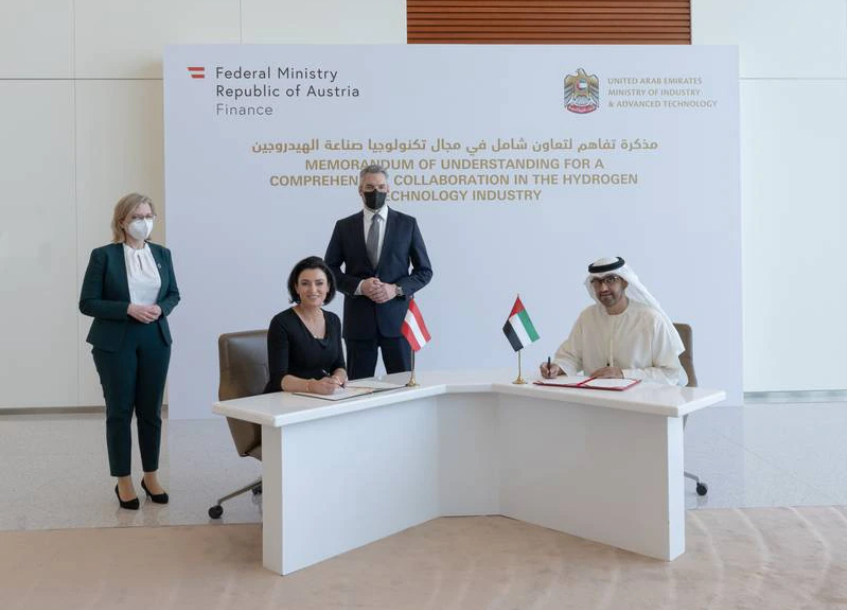 Photo: MoIAT
The UAE and Austria signed a preliminary agreement on Monday to boost collaboration in the hydrogen technology industry.

The deal, signed by the UAE Ministry of Industry and Advanced Technology and Federal (MoIAT) and Austria's Federal Ministry of Finance, will help drive growth in their respective countries in priority sectors such as energy, MoIAT said.
The collaboration comes after a Comprehensive Strategic Partnership signed by the two countries last July to bolster collaboration.
The move aims to "establish a comprehensive collaboration in hydrogen technology, which will build on the strengths of each party and contribute to the UAE's position as a leading global energy producer", said Dr Sultan Al Jaber, Minister of Industry and Advanced Technology and managing director and group chief executive of Adnoc.
"The agreement is also in line with the UAE's commitment to net-zero emissions by 2050 through the deployment and use of clean energy solutions."
The UAE and other countries across the Middle East and North Africa region are pursuing plans to incorporate hydrogen into their energy mix and tap into the clean fuel for different industrial applications.
Last year, Adnoc, Mubadala Investment Company and Abu Dhabi holding company ADQ formed an alliance to develop a global hydrogen hub.
Austria's SAN Group said last month it would invest Dh12 million ($3.3m) to build a green hydrogen and farming subsidiary in Ras Al Khaimah Economic Zone, with the centre expected to be fully operational by the end of this year.
The UAE is also looking to export hydrogen as demand increases amid the energy transition. It aims to capture 25 per cent of the global hydrogen market share.
The UAE-Austria partnership will develop a joint road map to support the acceleration of the use of hydrogen in sectors such as utilities, mobility and industry through their respective operating companies, a statement said.
"It is our shared objective to meet the growing global energy demand while reducing carbon emissions. The UAE offers ideal conditions for green hydrogen production, while Austria has decades-long experience in gas transport and storage as well as the required infrastructure," said Elisabeth Koestinger, Austria's Federal Minister of Agriculture, Regions and Tourism.
The move aims to boost collaboration across the entire hydrogen ecosystem, including production, storage, conversion, transport, trade, reconversion and utilisation of clean hydrogen, as well as manufacturing and services along the value chain, and joint research and development activities, the statement said.
This agreement will help strengthen the UAE's position among the top industrial countries in the world, and "contribute to building a sustainable and diversified economy that will make the UAE an international model for sustainable economic development", Dr Al Jaber said.
"To achieve this, we must focus on enhancing investment incentives, accessibility of resources and a strong infrastructure."