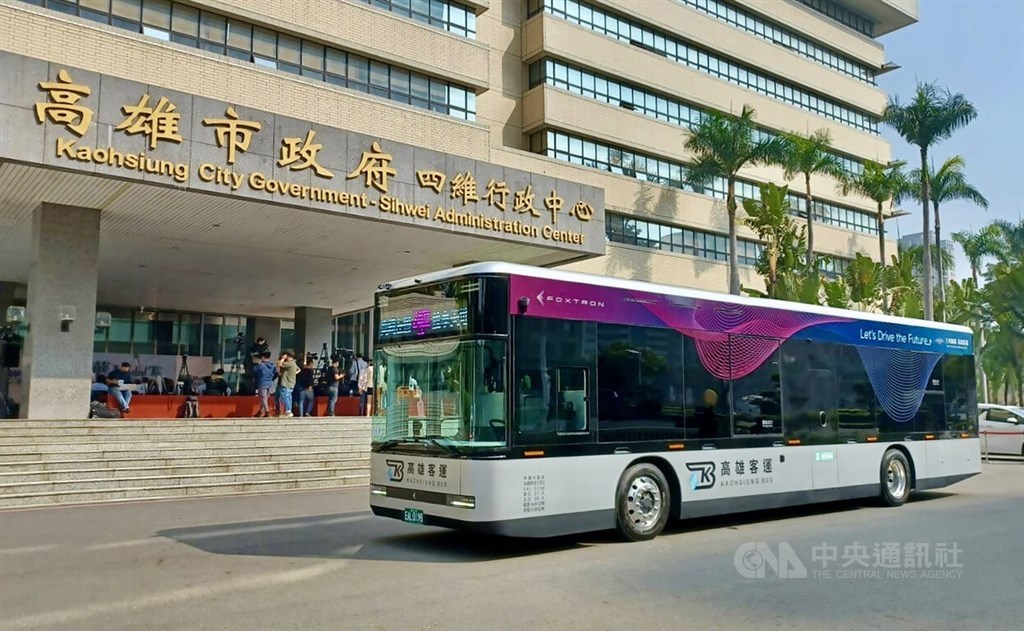 The electric bus based on the Model T prototype made by Foxtron Vehicle Technologies Co. March 3, 2022
Kaohsiung, March 3 (CNA) An electric bus developed by a subsidiary of Taiwan-based Hon Hai Technology Group was delivered to Kaohsiung City government Thursday and is scheduled to enter service on March 16.

Foxtron Vehicle Technologies Co., a subsidiary of Hon Hai, also known as Foxconn internationally, delivered its first electric bus based on the Model T prototype during a ceremony in front of Kaohsiung City Hall.
The Model T electric bus will run on the route between Taiwan High Speed Rail Zuoying Station and E Sky Land starting March 16, group chairman Liu Young-way (劉揚偉), announced at the ceremony.
The design and production of Model T took place in Taiwan, Liu noted, adding that more than 65 percent of spare parts and accessories for the buses are provided by members of the MIH Consortium -- an alliance initiated by Hon Hai Group in 2020 to promote open standards for electric vehicles -- and other Taiwanese suppliers.
Noting that the delivery marks an important milestone for Foxtron Vehicle Technologies' venture into the electric vehicle industry, Liu said the company expects to expand the scope of its EV business via cooperation with industry players around the world in the future.
At the ceremony, Kaohsiung Mayor Chen Chi-mai (陳其邁) said the delivery of the bus is a key moment for Taiwan's development of electric vehicles and electric buses and lauded Hon Hai's technology and competitiveness in the domestic and global electric vehicle manufacturing field.
The city government will build a stronger partnership with Hon Hai by improving policy-making and creating an investment-friendly environment, Chen said.
In addition to building Kaohsiung into an electric bus manufacturing hub, the city government will work to advance the development of Kaohsiung as a smart city and turn it into an important international manufacturing base for smart electric buses and smart transportation tools.
The Model T e-bus has completed 200,000 km of acceleration endurance testing and more than 1,000 hours of rigid strength tests at the Automotive Research & Testing Center (ARTC), according to data provided by Hon Hai.