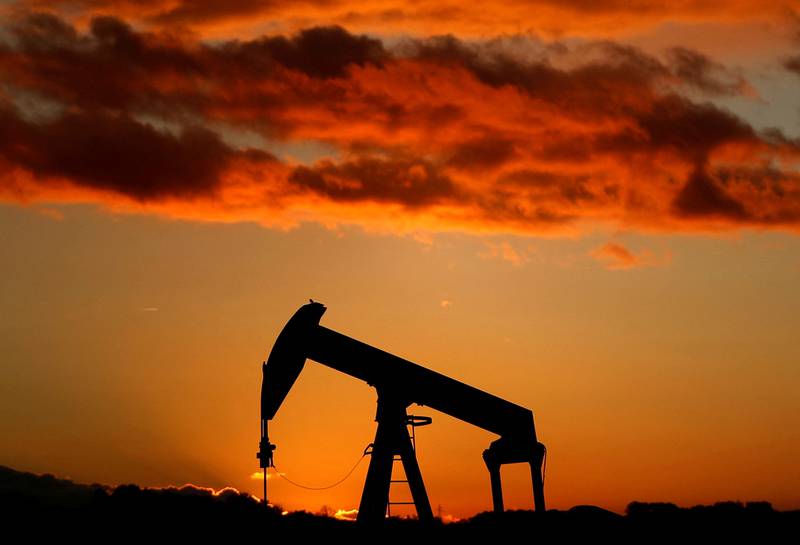 Crude oil prices jumped following news that Russia had started invading Ukraine on Thursday, pushing the price of Brent above $100 per barrel for the first time since 2014. REUTERS/Christian Hartmann
Oil prices receded to below $100 a barrel at the end of trading on Friday after breaching the psychological level to reach prices not seen since 2014.
After soaring above $105 on Thursday, Brent, the benchmark for two thirds of the world's oil, ended trading 1.16 per cent lower at $97.93 per barrel on Friday. West Texas Intermediate, the gauge that tracks US crude, closed at $91.59 per barrel, down 1.31 per cent.
Oil prices weakened after various punitive measures announced by the US and its European allies against Russia for its military offensive in Ukraine, fell short of targeting Moscow's energy industry. The measures include limiting Russia's ability to do business in dollars, euros, pounds, and yen, while 27 EU members also moved to freeze Russian assets and deny banks access to the bloc's financial markets.
On Saturday, Washington and EU allies agreed to block certain Russian lenders from the Swift payments network to "ensure that these banks are disconnected from the international financial system and to harm their ability to operate globally".
Notably, the US and EU have not placed sanctions on Russia's energy and commodity industries, which are integral to the global economy. That eased market concerns as Russia is among the world's biggest producers of oil and natural gas, in addition to nickel, aluminium, palladium, cobalt, copper, wheat and barley.
In 2020, Russia produced about 10.2 million barrels a day of crude oil and natural gas condensate, placing it second after the US, with Saudi Arabia in third place, according to the 2021 BP Statistical Review of World Energy. It is also the second-largest producer of natural gas in the world.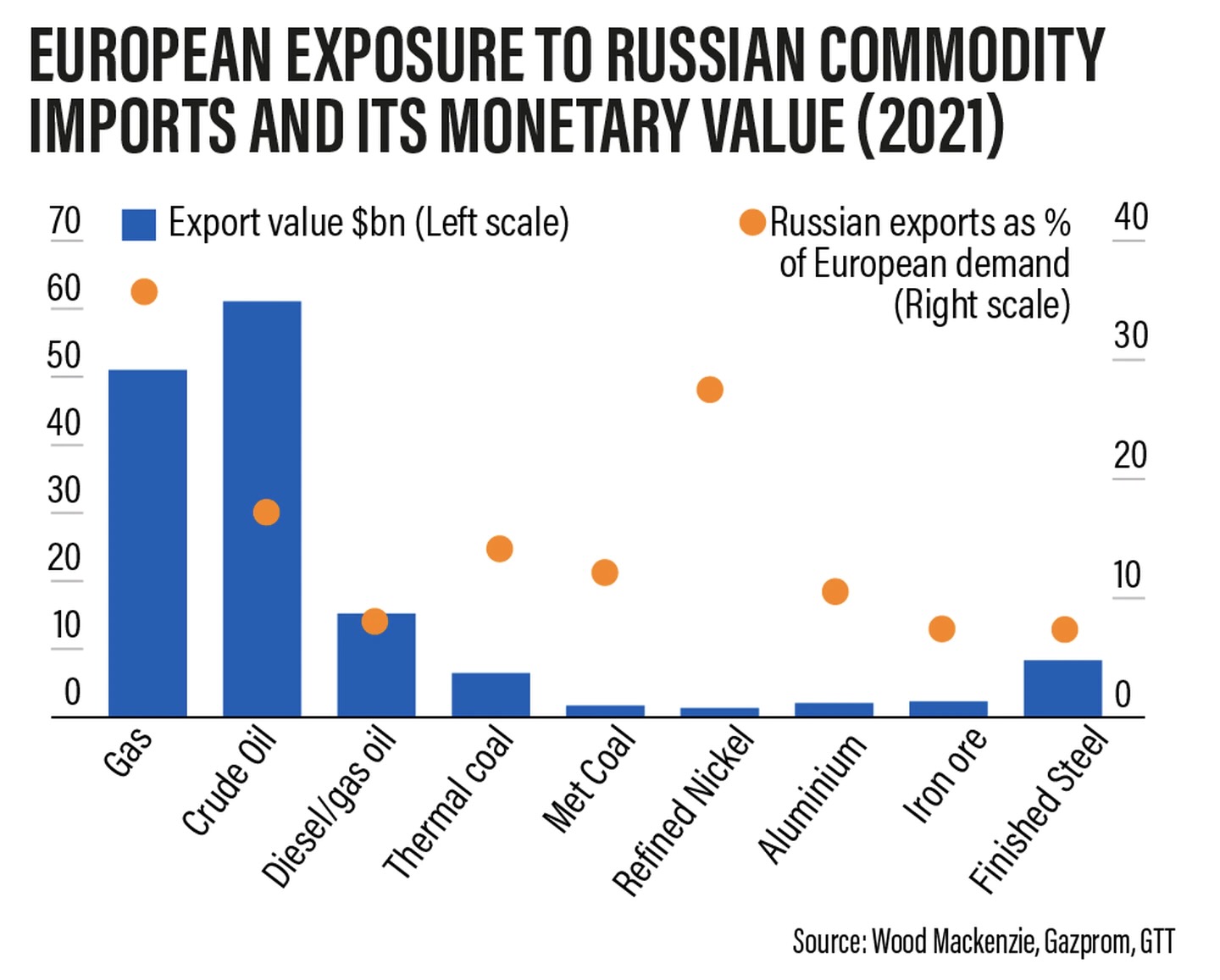 Still, the risk of more restrictions being placed on energy supplies from Russia is likely to make crude oil prices volatile over the next few weeks, said Naeem Aslam, senior analyst at AvaTrade.
President Joe Biden has said the US is working with other countries on a combined release of additional oil from global strategic crude reserves to cool down oil prices.
US crude eased back to about $96 from above $100 on Thursday after Mr Biden said the US will release some of its strategic oil reserves to ease the pressure.
"If there is an ideal time to use the strategic reserves, it's now," said Ipek Ozkardeskaya, senior analyst at Swissquote.
If a nuclear deal with Iran is reached it would provide additional supply to the world markets and "could help easing the energy crisis and pull the energy prices lower", she said.
Iran, among larger Opec producers, will be able to boost exports by about a million barrels per day within a matter of months once sanctions are lifted. Tehran has been exempt from the production cuts under the Opec+ agreement because its crude oil production remains limited by US sanctions. The US Energy Information Administration estimates Iran's production could return to full capacity, at 3.8 million barrels per day, if Washington lifts the sanctions.
The easing impact, however, could remain limited as long as the Opec+ supply constraints and the post-pandemic demand quickly absorb the available reserves.
Opec+ members, led by Saudi Arabia and Russia, will meet this week to decide future production cuts. The group had decided to add 400,000 barrels of oil per day to the market in March as demand continues to pick up amid the global economic recovery.
"WTI crude has found tentative support at the $90 a barrel and that could hold given how tight the oil market remains," said Edward Moya, senior market analyst at Oanda.
"Next week, Opec+ is expected to stick to a gradual output increase strategy of 400,000 bpd in April, which when you factor in they probably won't hit their quota, oil prices should remain supported."
Rystad Energy expects oil prices could hit $130 a barrel by June if the Ukrainian conflict disrupts Russian crude flows and surge further beyond that if the crisis escalates.
"The escalation immediately jeopardises up to one million barrels per day of crude supplies that transit through Ukraine and the Black Sea, but the long-term disruptions could be far more significant," said Rystad Energy's chief executive Jarand Rystad.
"Oil prices could surge to around $130 per barrel, with consumers feeling the squeeze at the gas pump and in their power bills. The reality is that significantly higher prices are on the horizon in Europe and overseas."