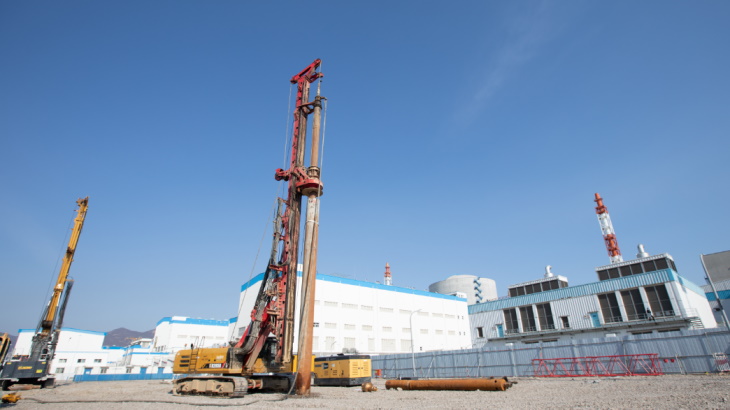 Work gets under way on the infrastructure for the steam supply project at the Tianwan plant (Image: CNNC)
The project is being jointly carried out by CNNC subsidiary Jiangsu Nuclear Power Company and the Lianyungang Petrochemical Industry Base in Xuwei New District, Lianyungang City.
In the project, steam generated at units 3 and 4 of the Tianwan plant will be transported to the Lianyungang Petrochemical Industrial Base for industrial production and utilisation.
The steam will be transported through an insulated above-ground pipeline. The temperature loss per kilometre will be controlled to be less than 2°C and the pressure drop will be less than 0.03Mpa during the long-distance steam transmission.
The project is scheduled to be put into operation by the end of 2023. It is expected to supply 4.8 million tonnes of steam annually, which will reduce the burning of standard coal by 400,000 tonnes per year, and the equivalent emission reduction of 1.07 million tonnes of carbon dioxide, 184 tonnes of sulphur dioxide and 263 tonnes of nitrogen oxides.
The first four units at the site - which began commercial operation between June 2007 and December 2018 - are Gidropress VVER units supplied by Russia, as will be the seventh and eighth, for which a general contract was signed in March 2020. Units 5 and 6 both feature Chinese ACPR1000 reactors.
When all eight units are in operation Tianwan would become the largest nuclear power plant in the world with eight units and a total generating capacity of about 8100 MWe.
The Tianwan plant is owned and operated by Jiangsu Nuclear Power Company, a joint venture between CNNC (50%), China Power Investment Corporation (30%) and Jiangsu Guoxin Group (20%).