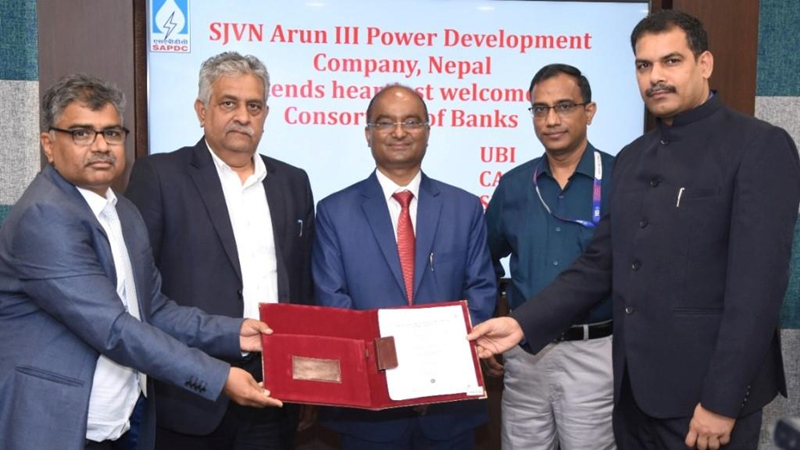 Signing of the loan agreement for 900 MW Arun 3 (photo courtesy SJVN)
SJVN Arun-3 Power Development Company, a subsidiary of SJVN Limited in Nepal, has signed term loan documents for an INR6,334,000,000 ($84.85 million) loan to further construction of the 900 MW Arun 3 hydroelectric project.

SJVN is implementing the Arun 3 hydroelectric project in Nepal through SJVN Arun-3 Power Development. Arun 3, on the Arun River in the Sunkhuwashabha District, is a peaking run-of-river project in eastern Nepal. The dam will be 70 m tall and the headrace tunnel will be 11.7 km long. The underground powerhouse will contain four 225 MW vertical Francis turbine-generator units. Electricity from the project will be exported to India via a 217-km-long 400-kV double circuit transmission line.
SJVN received the allocation to develop the project on a build-own-operate-transfer basis, for a period of 30 years, in March 2008. The foundation stone for the project was laid in May 2018. The project is targeted to be complete in the financial year 2023-2024. This is one year ahead of the scheduled commissioning date of February 2025.
The consortium of banks financing the loan is led by SBI India and PNB and includes Exim Bank, Canara UBI & Everest Bank, Nepal & Nabil Bank, Nepal.
SJVN has a portfolio of more than 16,000 MW, with 2,016.50 MW installed capacity and rest under various stages of development. In its Shared Vision, the company aims to achieve 5,000 MW by 2023, 25,000 MW by 2030 and 50,000 MW installed capacity by 2040.