An all-new smart hydrogen hybrid heating system has completed successful trials in Pembrokeshire, UK, marking a key milestone for the future decarbonisation of domestic heating.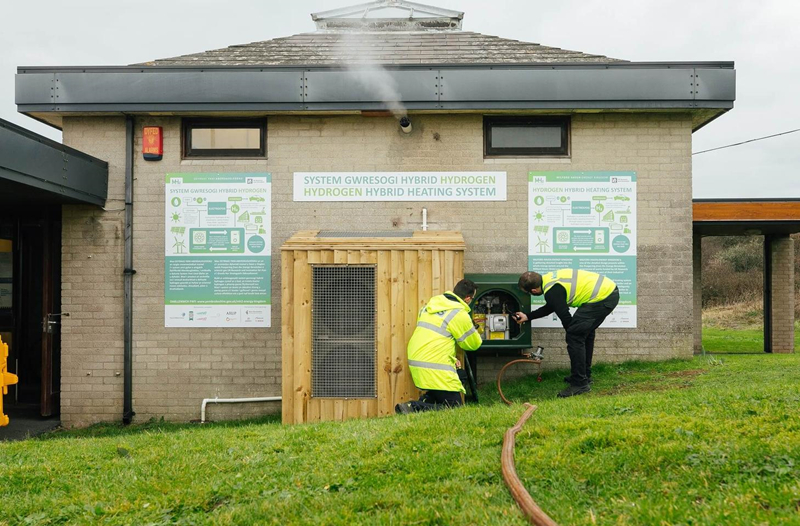 Believed to be a world first, the demonstration saw a combined hydrogen-fuelled boiler with an electric air-source heat pump alongside smart control technology at the Port of Milford Haven, the UK's largest energy port.
The trial was carried out by a collaboration of partners – Port of Milford Haven, Passiv UK, Wales & West Utilities, Kiwa UK, Worcester Bosch, Offshore Renewable Energy Catapult, and Pembrokeshire County Council – each of which are committed to achieving the UK's net zero ambitions.
Compared to conventional heating systems, hybrid heating systems as flexibly switch between renewable electricity when its available and green gases such as hydrogen.
Steve Edwards, Commercial Director at the Port of Milford Haven, said,"Having already established itself as the UK's Energy Capital, the Milford Haven Waterway is now at the centre of a renewable energy revolution, with huge potential to become the low carbon energy capital of the UK, safeguarding thousands of local jobs and creating thousands more new ones.
"To get to net zero we must deliver net zero power, transport and heat and we have all the necessary components here on our doorstep in Pembrokeshire to act as a vital cluster of national significance".
According to The Energy Saving Trust, emissions from home heating and hot water need to be cut by 95% to meet 2050 UK net zero targets, and hybrid heating technology will become increasingly important both for commercial and domestic customers.
Matt Hindle, Head of Net Zero and Sustainability at Wales & West Utilities, added, "We're committed to playing our part in helping communities across Wales and south west England go green. Between 2021 and 2026, we're investing £400m to prepare out network to transport green gas like hydrogen and biomethane.
"Hybrid heating systems can be easily retrofitted to existing housing stock, without costly changes to existing housing stock, without costly changes to radiators in internal pipework, keeping disruption to homes and communities to a minimum. This trial has demonstrated how they can work with hydrogen in place of natural gas."
The hydrogen boiler installed as part of the hybrid system was developed by engineers at Worcester Bosch during the last three years as part of the BEIS-funded Hy4Heat project, designed to help the country achieve its target of net zero emissions by 2050.