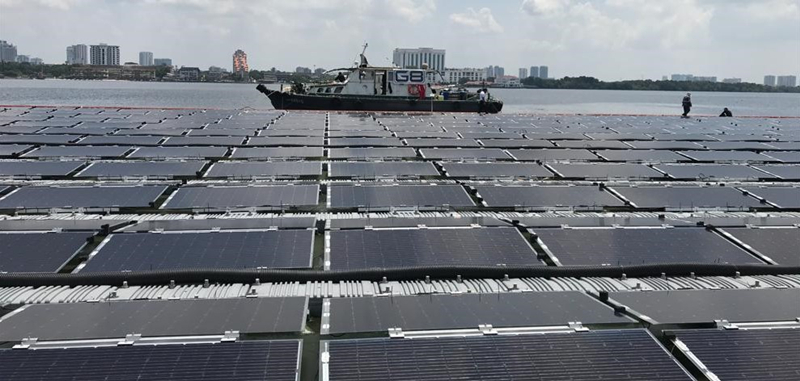 Floating solar panels in the reservoir impounded for a hydroelectric project (photo courtesy G8)
Singapore-based G8 Subsea has been awarded an agreement by a power authority in West Africa to install a full turnkey 65 MW system floating solar system at a hydro project, according to a press release.

The name of the hydro project and the name of the company for which the solar project is being developed were not disclosed. Other news sources have reported it is the Bui hydro facility owned by Bui Power Authority Ghana. The plant has a capacity of 400 MW and is located on the Black Volta River.
G8 will install its GPM-65 floating solar system, which it says will increase the power production capacity of hydropower plants. The GPM-65 Solar-Hydro System will occupy about 350,000 m2 of water space close to the dam. The solar-hydro system will be incorporated with G8's mooring and flotation technology to cater to different depth variations of the water in the reservoir throughout the year. The system will feature an advanced power management system with an optional ESS (energy storage system) to integrate the function of solar power and hydropower generation.
G8's management, together with a local joint venture partner, conducted a site assessment of the hydro dam facility to initiate logistics and project preparation with the West Africa power authority operations team. The system is part of an extension to a 5 MW system that is already installed and is targeted to be commissioned by third quarter of 2023.
G8 develops and constructs renewable energy projects across the globe, with over 2.5 GW of renewable energy and subsea transmission projects under development in Asia.