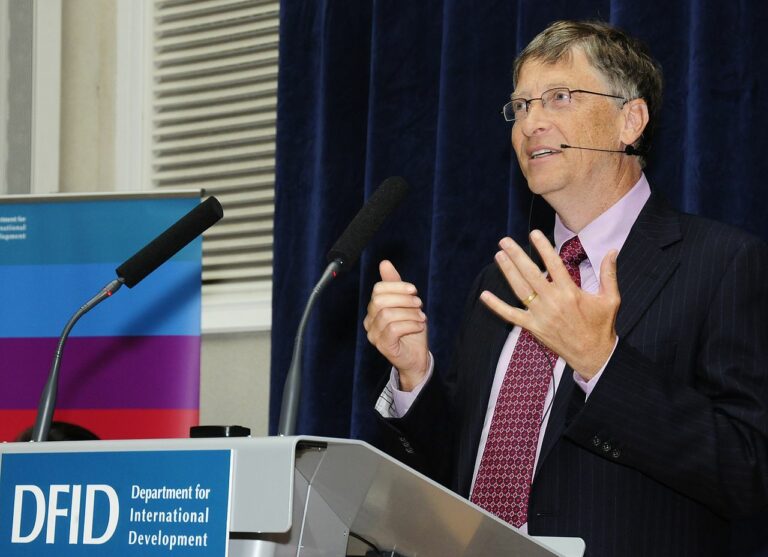 Bill Gates founded Breakthrough Energy Ventures and is its chairman.
Image: UK Department for International Development.

Thermal storage startup Antora Energy has raised US$50 million from a group of investment firms including Bill Gates' Breakthrough Energy Ventures to accelerate the development of its heat-based carbon block energy storage system for heavy industry.

The investment is being provided by Breakthrough, Lowercarbon Capital, Shell Ventures, BHP Ventures, Grok Ventures, Trust Ventures, Overture VC, Impact Science Ventures, and existing investor Fifty Years VC.
Antora says the money, which follows US$5 million of grants from US government bodies in 2020, will help the company "build out their first customer-sited projects and speed up hiring."

The technology
The California-based firm's technology works by absorbing electricity from wind and solar into heat blocks of carbon. These are heated to as much as 2000°C.
The carbon blocks can then provide heat, by heating up tubes containing steam or hot air, or they can even generate electricity from their glow being directed onto modified solar PV modules, the company has claimed. Antora says these two discharge modes are operated completely independently.
In a recent Medium article, the company's CEO Andrew Ponec wrote that thermal beats all other storage types it looked at in its early stages – hydrogen, batteries, gravitational storage, compressed air, flywheels – by virtue of being cheap, simple and infinitely scalable.
He claims that carbon blocks are amongst the cheapest storage materials in the world and that the firm has a 'world-record-breaking solid-state heat engine that converts radiant heat into electricity with only a few micrometres of material and no moving parts', solving thermal storage's two main problems. He also reckons carbon blocks have the same energy density as lithium-ion batteries.

Stage of commercialisation and target opportunity
In an interview in January, Ponec said that Antora has a workhorse prototype system of a few hundred KWh but was 'working hard' on a delivering a 100MWh pilot system to Wellhead Electric, a developer of natural gas, solar and storage plants in California.
The company is targeting heavy industry which is the single-largest source of carbon emissions at 30% and has found it difficult to decarbonise due to high heat and power requirements. One example is steel production, which requires temperatures of about 1,500°C.
"Our investors look at this and see a US$1 trillion/year opportunity. We look at it and see a 10 gigaton/year opportunity," he said.

Other players in the space
This fundraising round is the largest seen in the space since EnergyNest secured €110m (US$130m) in April last year for its similar technology based around concrete, as reported by Energy-storage.news.
In fact, the nascent thermal energy storage space comprises a variety of materials upon which solutions have been based. US startup Malta Inc uses a molten salt-based storage solution, Swedish group Azelio's is based around aluminium while Scotland-based Sunamp uses a phase change material (PCM) for its proprietary technology, albeit that one is a lower temperature storage tech aimed primarily at the residential hot water heating market.