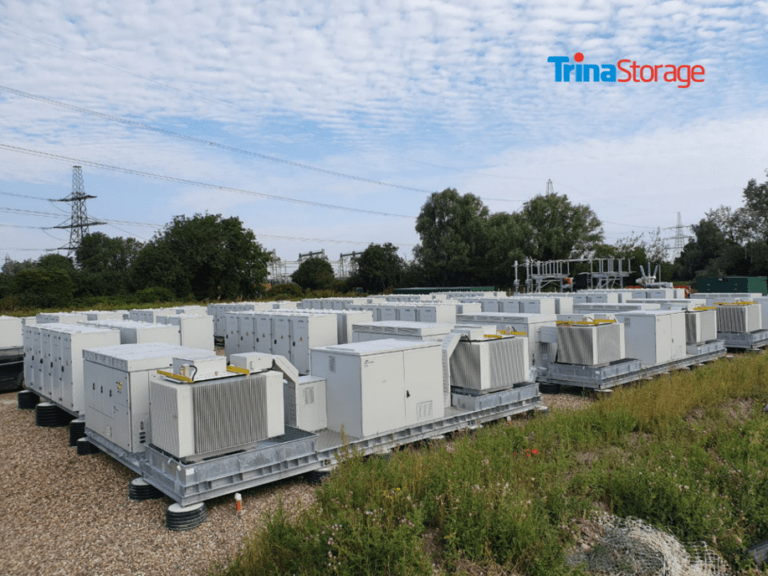 Trina Storage commissioned and tested the 50MW/56.2MWh battery system.
Image: Trina Storage
Trina Storage has completed the supply of its first UK battery energy storage system (BESS), the 50MW/56.2MWh fully integrated grid-scale battery energy storage system owned by SMS plc, a smart metering services company which has diversified into the energy storage space.

The BESS is in Burwell, a village in Cambridgeshire in east England. It was constructed by Ethical Power. Trina Storage, meanwhile, supplied, commissioned and tested the system, which is to provide balancing services to electricity system operator National Grid ESO following its start of commercial operations.
Consisting of lithium-ion battery racks, PCS and transformer units, Trina Storage said the BESS was designed to maximise system performance as well as increase battery life. It has also been equipped with modular, flexible and scalable Power Plant Controller (PPC) and SCADA to control, monitor and optimise system performance.
A flexible capacity warranty covering full system supply, including commissioning and standard product warranty, as well as preventive maintenance is also provided.
Trina Storage, which was launched in January 2021 by vertically-integrated solar PV company Trina Solar, said that by forging an end-to-end partnership with SMS and third parties it reduced complexity and project delivery times with its supply chain expertise.