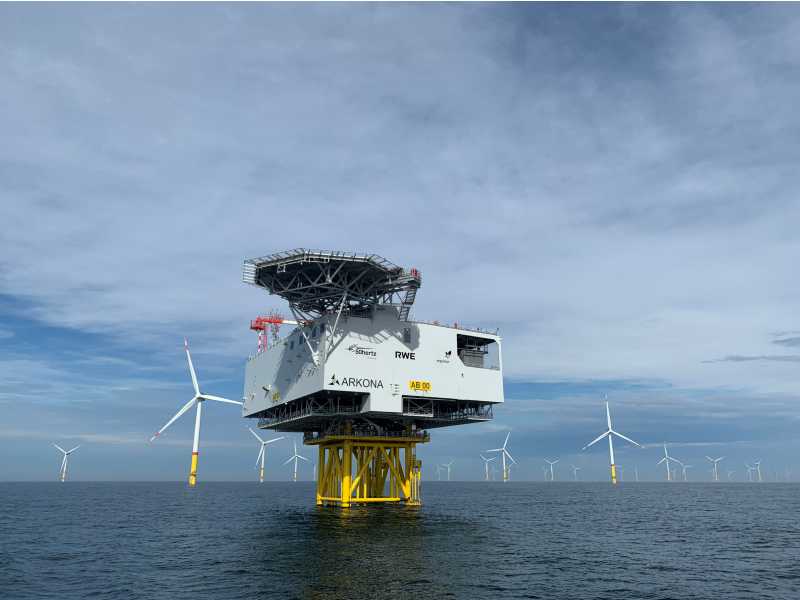 RWE Arkona wind farm. Image credit: RWE
German multinational utility RWE has selected French firm Chantiers de l'Atlantique for the supply, engineering, installation and commissioning of a substation and related technologies for an offshore wind energy project in Polish waters.
The 350MW wind energy project being built by RWE will produce enough electricity to power 350,000 Polish households.
RWE will use the substations being installed to collect clean electricity generated from the project and transport it via high voltage submarine cables to meet the growing demand for energy in Poland.
Digital tools will be installed to ensure remote control and monitoring of both the wind energy farm and substations.
Chantiers de l'Atlantique says it is partnering with both French and Polish companies to deliver the project. The company will start delivering the equipment and technologies for the project from this year and full installation is expected by 2025.
After the successful delivery of the Arkona offshore substation in 2018, this is the second time that Chantiers de l'Atlantique and RWE have joined forces on an offshore wind project.
RWE says it is using the project to expand its business within the renewable energy segment, as well as to enable Poland to accelerate its retirement of fossil fuels by expanding its portfolio of clean capacity.
RWE already has a well-established onshore wind business in the country and is continuously diversifying its renewables portfolio by investing in solar projects in Poland.
RWE currently operates 17 offshore wind farms in five countries and plans to increase its wind capacity from 2.4GW to 8GW by 2030.