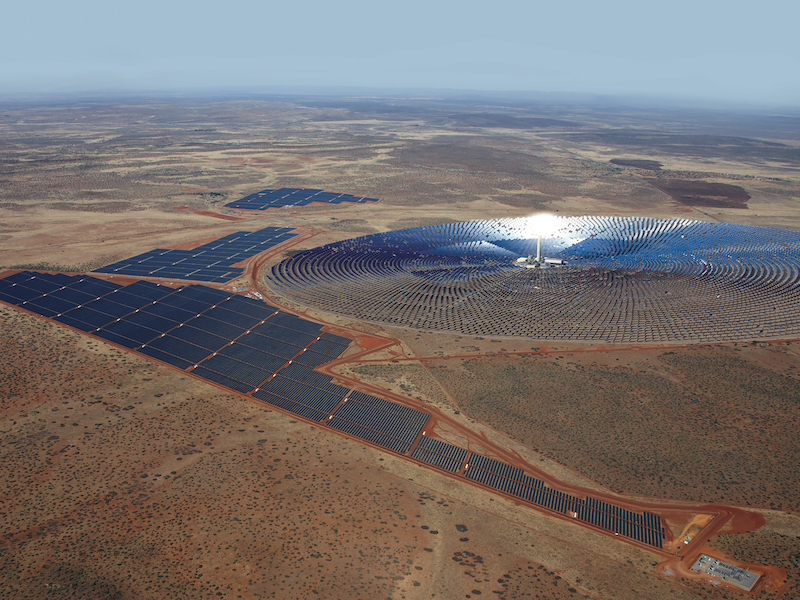 The Redstone Concentrated Solar Power (CSP) Project, South Africa's largest renewable energy investment to date, has achieved its first debt drawdown.

Construction on the project in the Northern Cape, which falls under REIPPPP's bid window 3.5 which only focused on CSP power, started in May 2021, soon after it achieved financial close. The plant is expected to start operating by the end of 2023.

The African Development Bank (AfDB) is acting as the mandated lead arranger and coordinating bank for the R11.6 billion ($764,63 million) total investment, with a commitment of R2,306bn ($151,95m). The project has also secured financing from international and South African financial institutions including ABSA Bank, CDC Group, Development Bank of Southern Africa (DBSA), Deutsche Investitions- und Entwicklungsgesellschaft (DEG), Nederlandse Financierings-Maatschappij voor Ontwikkelingslanden (FMO) Investec Bank, Nedbank Limited, Sanlam Limited and the Industrial Development Corporation of South Africa.

Redstone CSP is led by Saudi developer/investor ACWA Power which is also the lead shareholder in the project with co-shareholders including the Central Energy Fund, Pele Green Energy and the local community.

Concentrated solar power project show viability of solar power as baseload energy

Located 30kms east of Postmasburg, close to Kimberley in the Northern Cape Province the Redstone project will be equipped with a 12-hour thermal storage system to deliver clean and reliable electricity to nearly 200,000 households round the clock.

The project is currently in its ninth month of construction. The engineering works for the project is over 58% completed and procurement and construction works are at over 45% and 6% respectively.

The tower foundation for the project has already been completed. A 250-metre tall tower will eventually be surrounded by heliostats (mirrors) arranged in concentric circles. Solar energy channelled from the heliostats will heat up molten salt in the tower to preserve the energy for dispatch during the evenings and mornings.

AfDB Director of Energy Financial Solution and Policy Regulations Wale Shonibare: "This project marks a landmark project finance investment in South Africa and demonstrates the commercial viability of CSP technology in enhancing clean energy generation. Redstone's capability to convert solar power into baseload energy at scale, aligns with AfDB's Climate Change & Green Growth Policy and Strategy of investing for clean and inclusive growth."

Redstone CSP will offset about 440 metric tons of CO2 emissions a year and will be the first renewable energy project in South Africa to offer ancillary services to Eskom.

The project is certified under the Climate Bonds Standard and Certification Scheme and aligned with the goals of the Paris Climate Agreement which seeks to limit global warming to under 2 degrees Celsius.

AfDB's Vice President in charge of Power, Energy, Climate Change and Green Growth Dr Kevin Kariuki said Redstone will play an important role in South Africa's decarbonisation efforts. "The Bank looks forward to playing an even bigger part in supporting South Africa's just energy transition by harnessing the abundant renewable sources of energy through innovative partnerships with the private sector," said Kariuki.

In addition to delivering clean energy to the national grid, the Redstone project will create tangible socio-economic benefits by using local supply chains and creating job opportunities. Close to 44% local content will be procured during construction; more than 2,000 construction jobs will be created with 400 drawn from the local community; and around 100 permanent direct jobs will be created during the operating period.