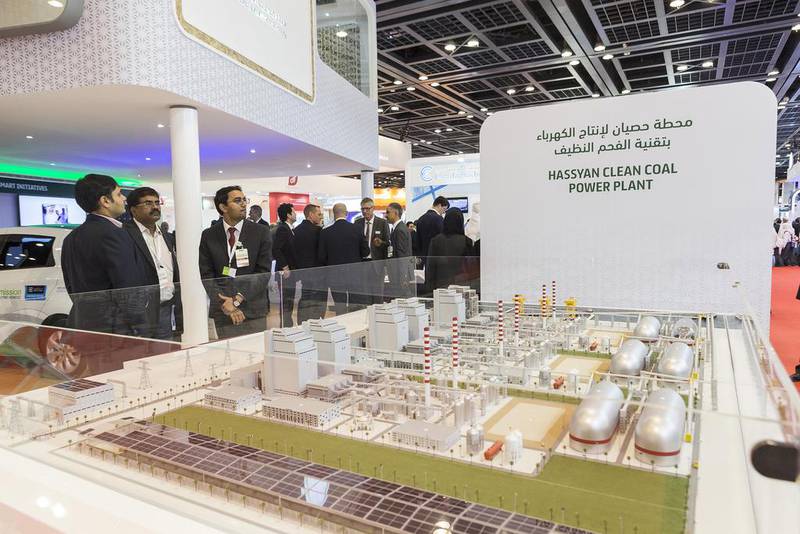 The UAE aims to become carbon neutral with investment worth Dh600 billion by 2050. Antonie Robertson / The National
The production capacity of Hassyan power complex has reached 1,200 megawatts, according to the Dubai Electricity and Water Authority.
The power plant will add a further 600MW of capacity in the fourth quarter of this year and an additional 600MW will be added by the third quarter of 2023, increasing its capacity to 2,400MW, the utility said on Monday.
The plant was recently converted to run only on natural gas instead of clean coal as Dubai seeks to reduce its emissions and become carbon neutral within the next three decades.
It was originally designed and built as a dual-fuel plant with the ability to operate full-time on both natural gas and clean coal, said Dewa.
"When we decided to convert the complex to run on natural gas, there was no downtime and the conversion process went smoothly. This step supports the vision and directives of the leadership to turn Dubai into a carbon-neutral economy," said Saeed Al Tayer, managing director and chief executive of Dewa.
"This also supports the Dubai Clean Energy Strategy 2050 and the Net Zero Carbon Emissions Strategy 2050 to provide 100 per cent of Dubai's total power capacity from clean energy sources by 2050. The move also supports our efforts to diversify energy sources and secure energy supplies."
The UAE has planned Dh600 billion in renewable energy investment over the next three decades.
The push towards greater efficiency is part of Dubai's drive to add more renewable power capacity. The emirate plans to power three quarters of its requirements from clean sources by 2050.
Dubai is also building other clean energy projects, including the 5,000MW Mohammed bin Rashid Al Maktoum Solar Park, the world's largest single-site solar park. The fifth phase, with a total investment of Dh2.05 billion, is 60 per cent complete, said Dewa.
The project is part of Dubai's strategy to increase the share of clean power in its energy mix to 13.3 per cent in the first quarter of this year, from an existing 11.38 per cent.
Dewa's current production capacity is 13,417MW, including 1,527MW of renewable energy using photovoltaic solar panels from the Mohammed bin Rashid Solar Park.
The Hassyan power plant will also include a water desalination project with a production capacity of 120 million imperial gallons per day using reverse osmosis, Dewa said. The project will be built under the independent water producer (IWP) model and is due to begin production in 2024.
Reverse osmosis is a membrane-based method of desalination that uses less energy compared with the thermal process used to produce fresh water.
Dewa signed a Dh1.5 billion ($408 million) water purchase agreement with Utico last year for the Hassyan seawater reverse osmosis plant. The agreement with the Ras Al Khaimah-based private utility is for 35 years.
The utility aims to increase its desalinated water capacity to 750 million imperial gallons a day, up from 470 million imperial gallons currently.
"We aim to produce 100 per cent of desalinated water using a mix of clean energy and waste heat by 2030," Mr Al Tayer said.
Dewa reached a record $0.277 per cubic metre of levelised water tariff for the project, which is the state utility's first developed under the IWP model. The authority also plans to lower water consumption by 30 per cent by 2030.