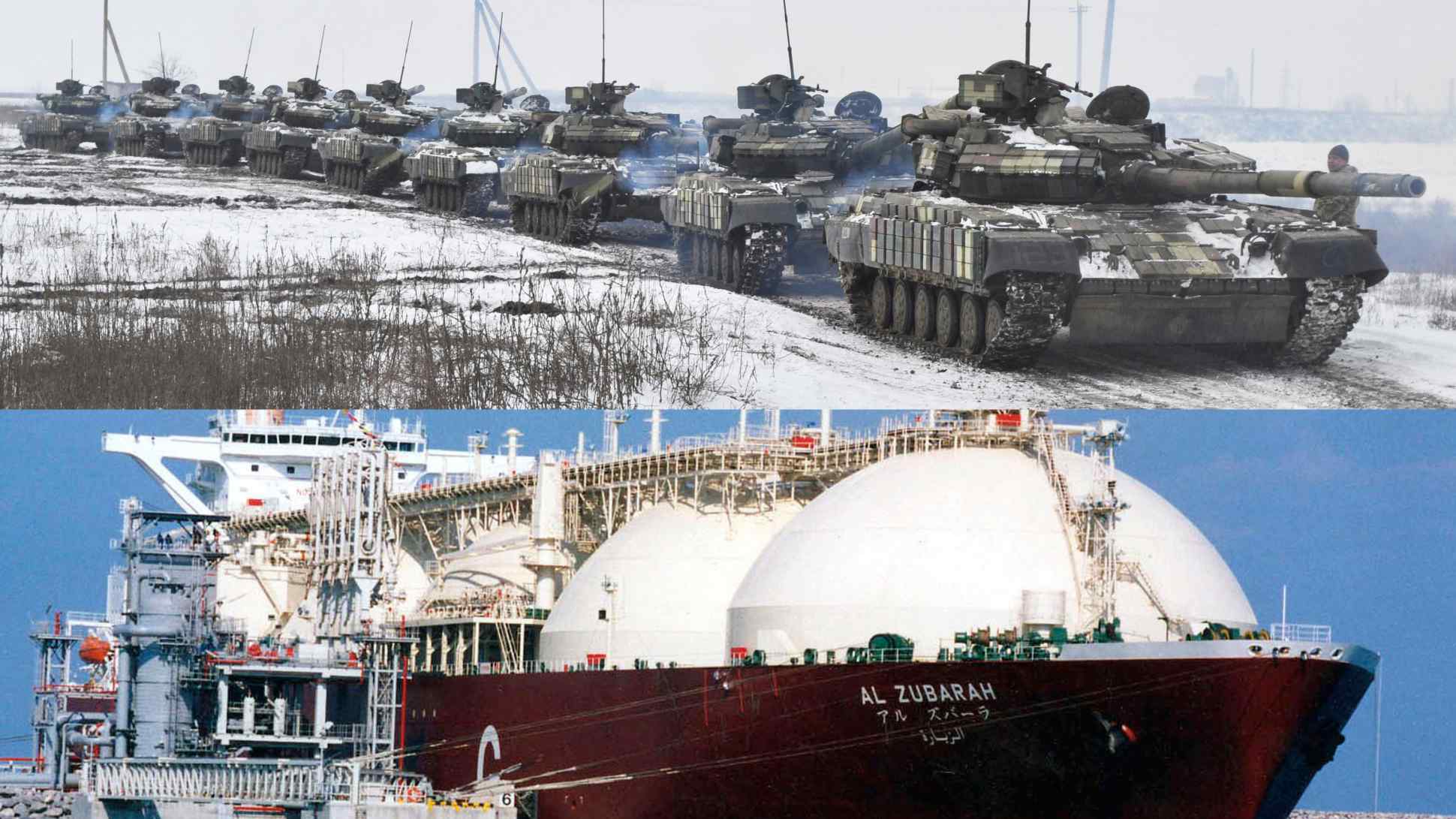 Tanks and tankers: Ukraine's military conducts exercises, top, and LNG is loaded on a ship in Qatar. (Source photos by AP and Ukrainian Armed Forces Press Service/Reuters)

Qatar's deepening trade in natural gas with Asia is complicating global efforts to protect Europe from the threat of an energy squeeze by Russia.

U.S. President Joe Biden's administration has spoken with major producers, including Qatar, about the possibility of delivering more gas to Europe if a Russian invasion of Ukraine interrupts gas flow to the continent.

But trade and commodities experts interviewed by Nikkei Asia say it is unlikely that Qatar could unilaterally increase supplies of liquefied natural gas to Europe, because much of its output is committed to long-term contracts concentrated in Asia.

Qatar accounts for about one-fifth of global LNG supplies, but the Persian Gulf country already is producing at full capacity, said Laura Page, senior LNG analyst at Kpler, a data and analytics group.

Around 90%-95% of supply from Qatar's largest gas processing and export facility, Ras Laffan, is also locked into long-term "point-to-point" contracts with buyers in Asia, Page said.

"Asia is in its peak demand season at the moment, so near term, I don't see large swaths of Qatari supply being rerouted to Europe," she said.

Siamak Adibi, head of the Middle East gas team at consulting firm FGE, put it more bluntly: "Qatar cannot really solve Europe's energy crisis."


The Kremlin has denied that it intends to invade Ukraine. Moscow dismisses concerns that Russia could cut off European gas supplies in the event of conflict as "fake hysteria."

Yet Western officials are urgently seeking sources of potential supply for Europe, which imports more than one-third of its gas via pipelines from Russia and where supplies already are tight, pushing up prices this winter.

U.S. Secretary of State Antony Blinken and Josep Borrell, the European Union's foreign policy chief, told reporters a week ago that they were working together to protect Europe's energy supply from shocks. Australia said last month it had offered to provide additional LNG to Europe, should Russia cut off supplies.

Japan, the biggest importer of LNG globally after China, will divert "surplus" gas to Europe, industry minister Koichi Hagiuda said last week -- a move welcomed by the new U.S. ambassador to Japan, Rahm Emanuel.

Qatar has insisted that no one country can solve Europe's gas needs alone. Saad al-Kaabi, its minister of state for energy, told Reuters last week that Qatar has not approached its Asian customers over diverting LNG to Europe.

State-owned QatarEnergy has signed long-term commitments with Asian buyers during the past two years, including in mainland China and Taiwan, that have expanded the proportion of its exports sent to the region. Asian buyers also have proven willing to pay higher spot prices for uncommitted exports.


As a result, Qatar's LNG exports to Europe, including Turkey, fell 27% last year from 2020. Asian demand hit seasonal peaks in January 2021 and last month, due to winter heating needs that come on top of the easing of coronavirus lockdown restrictions.

It is possible that the country's Asian buyers will not demand the full amount entitled to them under their contracts, Adibi said, "or Qatar may also exercise its flexibility in LNG contracts to free up some volumes for spot markets in Asia and Europe. Nevertheless, I see limited supply volumes available for diversion from Asia to Europe."

Asian buyers with long-term contracts are instead more likely to import the maximum under the terms of their deals, which are likely to be set below spot prices -- a difference that could widen if Russian actions lead to a price spike. QatarEnergy did not respond to Nikkei Asia's request for comment.

Anne Katrin Brevik, director of LNG research at Refinitiv, told Nikkei Asia that while Qatar could reroute some free capacity to Europe, this would be far from enough to cover a total disruption in Russian flows.

"Qatar, which sells most of their gas under long-term contracts, is legally obliged to deliver," she said. "It would severely ruin their reputation -- and be expensive -- if they walked away from the delivery obligations. They will need the consent from holders of long-term contracts to divert the LNG."


The U.S. likely will remain the biggest supplier of LNG to Europe, since it has the ability to increase production, Kpler's Page said.

Elsewhere, spare liquefaction capacity exists in countries such as Algeria, Nigeria and Trinidad and Tobago. But they operate at lower utilization rates due to gas supply constraints, she said, and would struggle to increase LNG output.

Giovanni Staunovo, a commodities analyst at UBS Global Wealth Management, told Nikkei Asia: "On a global level, the flexibility for adjusting LNG exports is restricted given limited spare capacity and strategic stocks, also considering that large parts of the exports are linked to long-term contracts."

The tensions are likely to be on the agenda of the biannual Gas Exporting Countries Forum summit Feb. 22 in Qatar. Russia is a member of the forum; the U.S. is not.