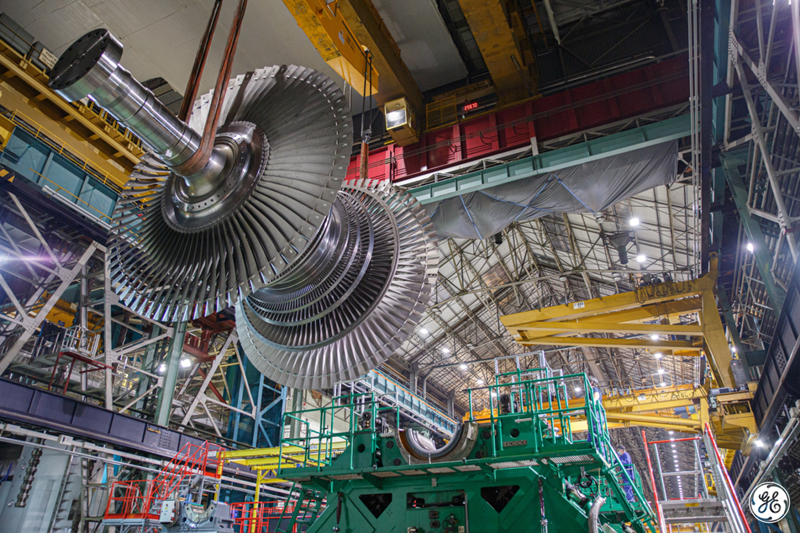 (Source: GE).
GE and EDF signed an exclusive agreement for EDF to acquire part of GE Steam Power's nuclear power business.
The deal would bring together GE's nuclear steam turbine technology and boost French-based EDF's commitment to the nuclear power sector.
In sync with the deal announcement, French President Enamel Macron said his country will build at least six new nuclear reactors in the decades to come. He effectively placed nuclear power at the core of France's push for carbon neutrality by 2050.
Macron said the new plants would be built and operated by government-controlled EDF and that tens of billions of euros in public financing would be used to finance the projects and safeguard EDF's finances.
EDF previously has estimated the cost of six new reactors at about $60 billion, depending on financing conditions. The first new reactor, an evolution of the European Pressurised Reactor (EPR), would come online by 2035, Macron said on February 10. Studies for a further eight reactors beyond the initial half-dozen new plants would be launched.
Last September we highlighted reports about GE potentially selling its nuclear turbine business to EDF. The companies have long partnered on nuclear power projects. More than three years ago, GE and EDF signed a strategic cooperation agreement for the planned construction of six reactors in India.
Included in the transaction would be GE Steam Power's conventional island equipment for new nuclear power plants, including the Arabelle turbine, along with associated technology for future nuclear plants, like the next generation of EPRs and small modular reactors (SMRs).
Activities involved in the deal are based in about 15 countries, GE said, with nearly 70% of the workforce in France, including at GE Steam Power manufacturing sites like Belfort and La Courneuve.
Financial terms of the transaction were not disclosed, but GE Steam Power's nuclear turbines business has been estimated at a value of around $1.2 billion, according to previous reports.
GE said it plans to retain services of more than 100 GW of plant activities in North America. GE Hitachi Nuclear Energy (GEH) plans to deploy Canada's first commercial, grid-scale SMR. In December, Ontario Power Generation (OPG) selected GEH to supply the BWRX-300 SMR for the Darlington New Nuclear Project. Darlington is the only site in Canada currently licensed for a new nuclear build and could be completed as early as 2028.
GE's nuclear steam turbines are installed in half of the world's nuclear power plants, including all of EDF's nuclear plants in France.
In early January, EDF said that the Flamanville 3 reactor would likely cost 300 million euros ($343 million) more than forecast and that fuel loading was being pushed back by up to six months. The project is more than a decade late and could cost 12.7 billion euros ($14.42 billion). Its expected cost has more than quadrupled from the first estimate made in 2004.