German utility RWE has announced a plan to invest €15 billion ($17.1 billion) to expand its portfolio of green energy in a move to accelerate the energy transition.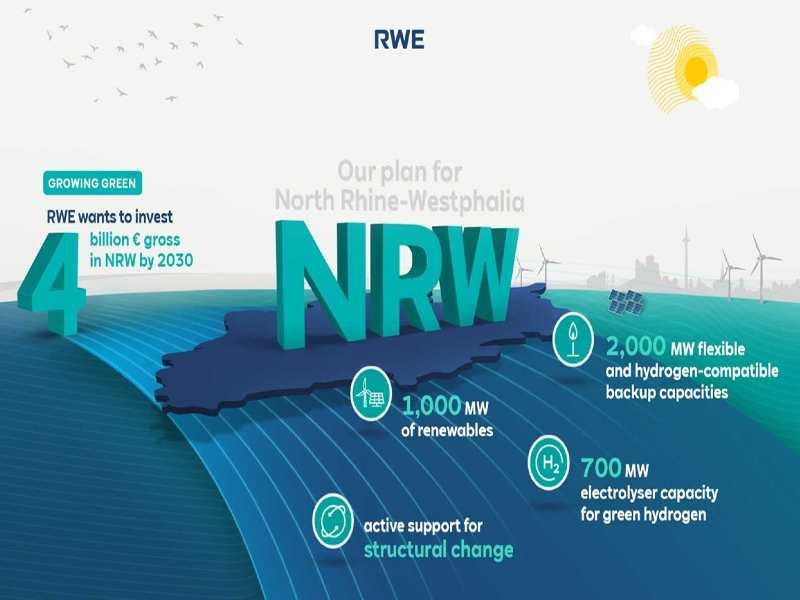 Image credit: RWE
The utility says it will invest in new offshore and onshore wind, batteries, hydrogen and flexible energy capacity to ensure the reliability of the grid and to meet growing consumer demand for green services.
The projects to be deployed by RWE are expected to add 1,000MW of renewables, 2,000MW flexible and hydrogen-compatible backup capacities, 700MW electrolyser capacity for green hydrogen in North Rhine-Westphalia in the next eight years.
Commenting on RWE's plan, Prof Andreas Pinkwart, Minister of Economic Affairs in North Rhine-Westphalia, said: "North Rhine-Westphalia is a strong industrial state and we want to remain this. That is why we are working on accelerating the expansion of renewable energies, gas and hydrogen power plants in order to enable a climate-friendly restructuring of our economy and society.
"That is why I am grateful that RWE intends to invest in the expansion of renewable energies on a large scale in our state, and especially in the Rhenish lignite area by 2030. North Rhine-Westphalia needs strong partners so that the climate-friendly conversion of the industrial base will succeed. Together with many other stakeholders, we can further develop the area into the most modern and climate-friendly zone in Europe."
The renewables capacity RWE plans to build will also include ground-mounted solar PV plants, of which some will be integrated with battery energy storage for optimisation. 500MW of the 1 000MW of renewables will be sited in the Rhenish mining district where land previously used for opencast mining will be leveraged.
The utility says it will partner with local and regional authorities on decarbonisation concepts in deploying the green energy projects which will also include floating and agricultural PV plants.
RWE says it will speed up its retirement of coal energy generation by building 2 000MW of gas-fired power plants on coal-fired power plant sites.
The gas plants will be hydrogen-ready and already be connected to the grid, making hydrogen integration and grid decarbonisation easier.