SHINE Technologies of the USA has announced its European subsidiary, SHINE Europe, has secured funding to begin designing an advanced medical isotope production facility at Veendam in the Netherlands.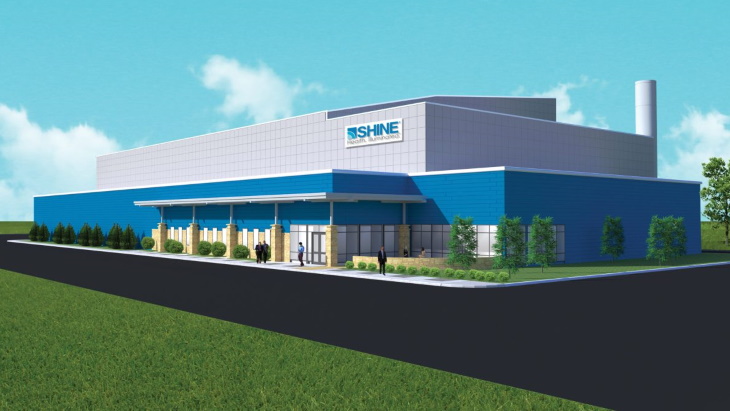 The company said the current phase of its European project is being funded by the Province of Groningen and the Federal State of the Netherlands. SHINE's other investors include leading global private and public entities such as Baillie Gifford, Koch Disruptive Technologies, Fidelity, Deerfield Management Company and Oaktree Capital Management.
SHINE said the new facility will leverage its "innovative production systems" to produce medical isotopes including molybdenum-99 (Mo-99), which is currently used in millions of diagnostic imaging procedures each year to help diagnose various life-threatening diseases in patients across the globe.
"The new facility is expected to develop medical isotopes in a very reliable, environmentally-friendly and less wasteful process than the legacy methods, also without adding exponential taxpayer burden to construct new European reactors," it added.
SHINE announced in May last year the selection of Veendam as the location of its European medical isotope production facility following a year-long search process that included the review of more than 50 proposals from sites across Europe. Construction of the Veendam facility is expected to begin in 2023, with commercial production to start in late 2025.
"Once operational, SHINE Europe demonstrates an innovative EU initiative that delivers critical medical care through new technology," said SHINE founder and CEO Greg Piefer.
"It's like comparing travel in Mercedes-Benz's first gasoline-powered car in the 1880s to an innovative journey inside today's Tesla. Simply, we believe our technology will provide a state-of-the art solution for producing medical isotopes. We believe that in just a few years, and with a significant portion of investment from private funding, SHINE Europe will be providing critical Mo-99 for millions of European patients without dependency on aging reactors."
SHINE is currently building its first production facility, using its transformational non-reactor technology, in Janesville, Wisconsin. The company broke ground on construction of its US production facility in May 2019. The plant is expected to be the largest medical isotope production facility in the world by capacity. SHINE expects to begin producing Mo-99 at the site in late-2022. The facility will be capable of supplying two-thirds of US patient demand for Mo-99.
The company is also exploring potential production of additional isotopes such as iodine-131 and xenon-133, among others. Once SHINE Europe is fully operational, SHINE anticipates the two facilities' combined output of Mo-99 can serve up to 70% of the global need for Mo-99 used in daily diagnostic imaging.