The core catcher casing has been installed for two Russian-supplied VVER-1200 reactors being constructed in China. The 156-tonne casing is part of the core catcher, which is intended to prevent release of radioactive substances in the event of a severe accident.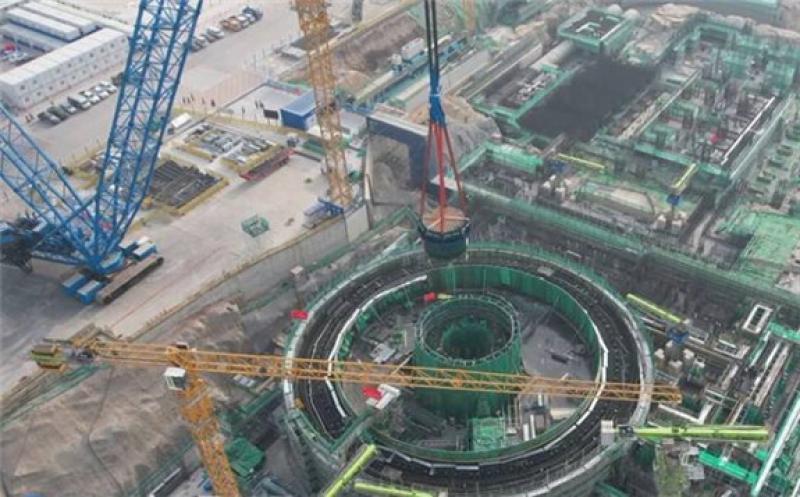 The other main components of the core catcher include block-cassettes filled with special non-metallic materials, maintenance platform, cantilever truss and bottom plate (Image: Rosatom)
Rosatom said that the 6.1-metre-high casing had been installed at Xudabao unit 3, which is in Huludao, in north east China's Liaoning province.
A core catcher is a device provided to catch the molten core material - corium - of a nuclear reactor in case of a nuclear meltdown and prevent it from escaping the containment building.
Contracts were signed in 2019 for the construction of phase two of the plant, with two VVER-1200 reactors and a Russian design for the "nuclear island" of the site. Commissioning of the units is scheduled for 2027-2028.
The Xudabao plant is owned by Liaoning Nuclear Power Company Limited, a joint venture between CNNC (70%), Datang International Power Generation Company (20%) and State Development and Investment Corporation (10%).
Rosatom says the core catcher "is capable of containing liquid and solid fragments of the core and structural materials of the reactor for an indefinitely long time, keeping the power plant safe for the environment and the people".
Alexey Bannik, ASE JSC vice president for nuclear power plant construction in China, said: "The core catcher has been adapted for the site conditions and it complies with all the up-to-date requirements."
Rosatom also said that casing had been installed at Tianwan unit 7, which is being constructed by the Jiangsu Nuclear Power Corporation in cooperation with the Russian company Atomstroyexport.
In June 2018, Russia and China signed agreements for the construction of two VVER-1200 reactors as units 7 and 8 of the Tianwan plant in Jiangsu province in eastern China as well as two VVER-1200 units at the new Xudabao (also known as Xudapu) site.
Work on the two sites was launched in May 2021 at a ceremony attended by video-link by Chinese President Xi Jinping and Russian President Vladimir Putin.