The first versatile nuclear icebreaker Sibir (Project 22220) was officially accepted by the customer at the Baltic Shipyard on December, 24. Mustafa Kashka, CEO, Atomflot, and Alexey Kadilov, CEO, Baltic Shipyard, signed the Acceptance Certificate.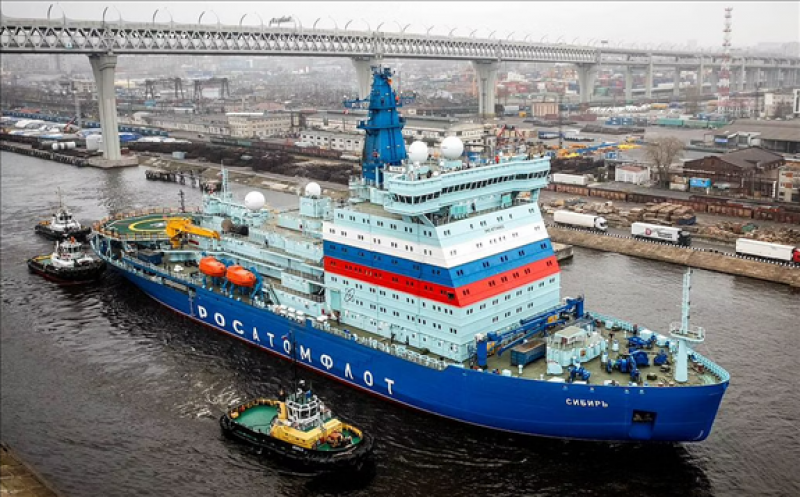 "The commissioning of the first-in-series versatile nuclear icebreaker Sibir will strengthen Atomflot's position in the Arctic", noted Mustafa Kashka, CEO, Atomflot. "Project 22220 nuclear icebreakers have accumulated the rich experience of shipbuilders and mariners. We believe that the efficient operation of such icebreakers is a key factor to enable the sustainable development of the Northern Sea Route navigation".
Arctica, the flagship versatile nuclear icebreaker, is operating in the Northern Sea Route right now. The nuclear icebreaker is escorting a convoy towards Pevek Port.
The flagship icebreaker operation has shown that the vessel is fully compliant with the customer specifications. The RITM 200 reactor with an integrated steam generator has also proved to be highly efficient. The Arctica nuclear icebreaker successfully navigated the shallow waters en route to the Arctica Gate oil terminal in May 2021. It proved her suitability for both open sea and polar river estuary operations.
"I would like to thank the Atomflot team who collaborated with us during the icebreaker construction and sea trials. The vessel is going away, and the Baltic Shipyard is following her with our aftersales support and spare parts. I hope you would appreciate the product of our joint efforts", said Alexey Kadilov, CEO, Baltic Shipyard.
Ural, Yakutia, and Chukotka nuclear icebreakers are now being built in St. Petersburg. The Project 22220 icebreakers will help unleash the traffic potential of the Northern Sea Route.
Sibir, the first in series versatile nuclear icebreaker, will leave St. Petersburg for her homeport Murmansk as the paperwork and preparations for winter and spring maritime operations are completed.