Outlook for year ahead turbulent with EU still reliant on supplies from Russia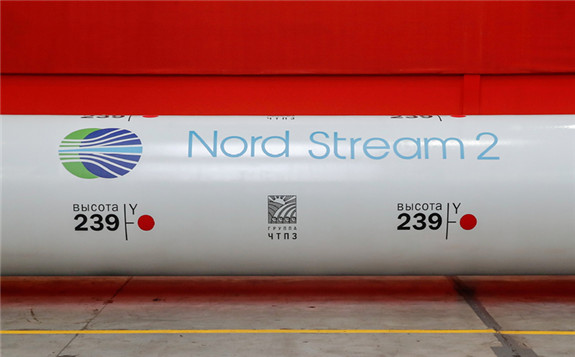 Increasing concern about Europe's reliance on gas supplies from Russia has led to fears of continued price volatility in the international energy market.
On Tuesday, for the 15th consecutive day, a pipeline that usually sends gas from Siberia to Europe was sending flows from Germany to Poland, with supplies from Ukraine to Slovakia also less than usual.
This led to a 30 percent rise in European gas prices, and comes against a backdrop of ongoing tensions between Russia and European countries over its intentions toward its neighbor Ukraine.
More than 40 percent of natural gas used in European Union comes from Russia, and there have been claims Russia is using this as a leverage tool.
Recent data from Gas Infrastructure Europe showed that despite some restocking over the Christmas period, when milder than usual weather lowered demand, the most recent measurement of European gas storage was just 56.3 percent full, more than 15 percentage points below the 10-year average.
"In none of the past years since records began have we had comparably low storage levels at this time," Sebastian Bleschke, the head of German gas and hydrogen storage system operators, told the Bloomberg news agency.
Russian energy company Gazprom has cut its daily volume of gas transit via Ukraine to Europe to its lowest level since January 2020, at about 50 million cubic meters.
"The energy crisis hit the bloc when security of supply was not on the menu of EU policymakers," Maximo Miccinilli, head of energy and climate at consultants FleishmanHillard EU, told Bloomberg.
With Europe's own natural gas resources having been in decline for years, it has long been increasingly dependent on imports, especially from Russia.
The newly-completed Nord Stream 2, an $11 billion, 1230-kilometer long pipeline running from Russia to Germany, beneath the Baltic Sea, could make a huge difference, but has been beset by political arguments throughout its decade-long construction.
For years, the United States government opposed its construction through sanctions, and despite it having now been completed, it has encountered another obstacle in the shape of Germany's new coalition government, which together with the country's energy regulator, has yet to give the project its final approval, which has only served to push prices even higher.
In a televised speech just before Christmas, Russia's President Vladimir Putin stressed how much approval would alleviate the situation, saying "the additional volumes of gas on the European market would undoubtedly lower the price on the spot".
Massimo Di-Odoardo, vice-president for gas and liquefied natural gas research at business consultancy Wood Mackenzie, said the outlook for European prices in 2022 remained turbulent.
"It's hard to see how a decent level of gas storage can be achieved without additional Russian exports via Nord Stream 2 or existing routes," he added.