A liquefied biogas (bio-LNG) production project by Dutch firms Titan LNG, Attero and Nordsol has been awarded €4.3mn ($4.8mn) in funding under the EU's 'Fit for 55' package.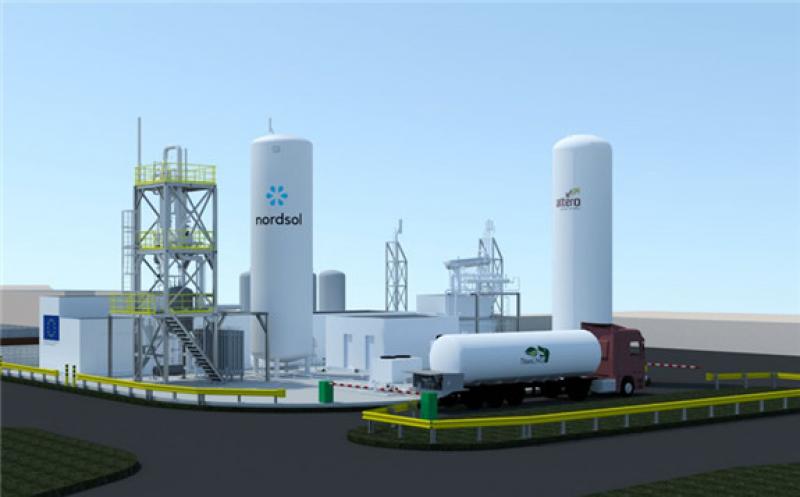 The "FirstBio2Shipping" bio-LNG project, due to be completed in 2023, will produce 2,400 t/yr of bio-LNG at the Attero facility in Wilp, the Netherlands, to be used as marine fuel.
Attero will produce 6mn m³/yr of biogas from domestic waste for the FirstBio2Shipping project. This will be liquefied using Nordsol's "iLNG" technology and distributed by Titan LNG, the project's exclusive long-term offtaker, through its existing LNG fuelling infrastructure, Titan LNG said.
Titan LNG had already been granted €11mn from the EU's Connecting Europe Facility scheme for its "Bio2Bunker" project, which will be used to build three bio-LNG bunker barges. The firm aims to reach carbon neutrality within the coming two decades.
Titan LNG already operates the FlexFueler 001 and FlexFueler 002 bunker barges, and chartered the 5,200m³ Green Zeebrugge bunkering vessel from shipping firm NYK earlier this year. The company also plans to have available the 8,000m³ [Titan LNG Hyperion vessel](https://direct.argusmedia.com/newsandanalysis/article/2199423) and the 4,200m³ [Titan Krios bunkering barge](https://direct.argusmedia.com/newsandanalysis/article/2211621) by 2023.
Nordsol has already partnered with Shell and UK-Dutch waste management firm Renewi to produce 3,400 t/yr of bio-LNG from organic waste, which will be used to supply Shell's network of LNG filling stations in the Netherlands. The facility began operations in October.
Nordsol also plans to build a larger, 15,000 t/yr bio-LNG production facility in the Netherlands in partnership with biogas producer DBG Bio Energy.
The Netherlands' 8.7mn t/yr Gate LNG terminal received International Sustainability and Carbon Certification (ISCC) as a bio-LNG warehouse earlier this year, which allows it to import certified bio-LNG and distribute it as a fuel.
The EU's "Fit for 55" plan is a package of measures approved in July to achieve a 55pc reduction in greenhouse gas emissions by 2030, compared with 1990 levels.