SK Gas has decided to invest in C-Zero, a U.S. company that has original technology to manufacture eco-friendly turquoise hydrogen.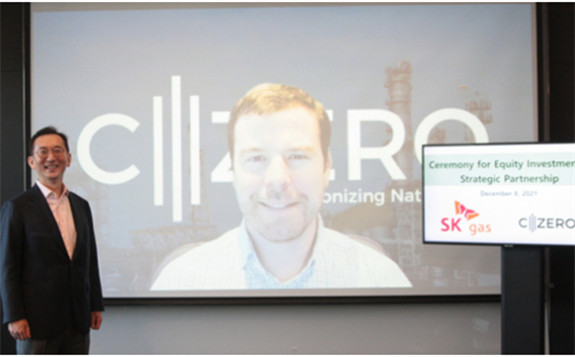 The company announced on Dec. 8 that it has signed an investment contract with C-Zero. The company aims to acquire eco-friendly hydrogen production technology to push for the creation of an ecosystem for the hydrogen business.
C-Zero, located in California, is a startup with methane pyrolysis source technology, which is considered a key technology in the production of turquoise hydrogen.
Turquoise hydrogen is an intermediate stage between blue hydrogen and green hydrogen. Depending on the production method, hydrogen is divided into green hydrogen, which is based on renewable energy such as solar power and wind power, and blue hydrogen, which is obtained by collecting carbon dioxide after extracting hydrogen from natural gas. While green hydrogen is produced without generating carbon dioxide in the production process, 4 kg to 5 kg of carbon dioxide is generated to produce 1 kg of blue hydrogen. Natural gas is used to produce turquoise hydrogen, but carbon dioxide is not generated in the production process, as pyrolysis technology is used.
Considering that production of green hydrogen requires high renewable energy generation cost and Korea does not have enough space to store carbon dioxide collected during blue hydrogen production, turquoise hydrogen can be the best alternative, SK Gas explains.
In addition, producing turquoise hydrogen using renewable natural gas (RNG) generated from organic waste such as waste food, sewage, and manure can achieve a reduction of greenhouse gas emissions. Due to this advantage of turquoise hydrogen, leading global energy companies have invested in C-Zero ahead of SK Gas.