Ontario Power Generation (OPG) has selected the BWRX-300 small modular reactor (SMR) for the Darlington new nuclear site, and will work with GE Hitachi Nuclear Energy (GEH) to deploy the reactor. Canada's first commercial, grid-scale, SMR could be completed as early as 2028.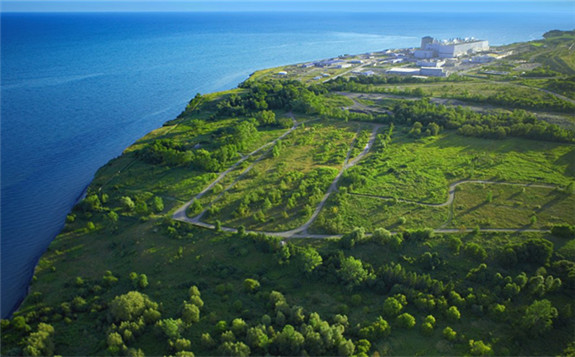 OPG and GEH will collaborate on SMR engineering, design, planning, preparing licensing and permitting materials, and site preparation activities. Site preparation will begin in the spring of 2022, pending appropriate approvals, OPG said. It aims to apply to the Canadian Nuclear Safety Commission (CNSC) for a construction licence by the end of next year.
Darlington is the only site in Canada currently licensed for new nuclear: OPG was granted a site preparation licence by the CNSC in 2012, after completion of an environmental assessment which included public involvement, but reductions in forecast electricity demand led to a decision to defer plans for new build. OPG last year announced it was resuming planning activities for additional nuclear power generation via an SMR at the site, rather than a large conventional reactor, as previously envisaged. The CNSC recently granted a 10-year renewal to the site preparation licence, which had been due to expire in August 2022.
"We know nuclear is a key proven zero-emissions baseload energy source that will help us achieve net-zero as a company by 2040, and act as a catalyst for efficient economy-wide decarbonisation by 2050," OPG President and CEO Ken Hartwick said. "By moving forward, with our industry-leading technology partner GE Hitachi, on deployment of innovative technology for an SMR at Darlington, OPG is paving the way on the development and deployment of the next generation of nuclear power in Canada and beyond."
The BWRX-300 is a 300 MWe water-cooled, natural circulation SMR with passive safety systems that leverages the design and licensing basis of GEH's ESBWR boiling water reactor, which has been certified by the US Nuclear Regulatory Commission. It is currently undergoing a Canadian Nuclear Safety Commission pre-licensing Vendor Design Review, or VDR. As well as the BWRX-300, OPG had also been considering Terrestrial Energy's Integrated Molten Salt Reactor and X-energy's Xe-100 high-temperature gas-cooled reactor for deployment at Darlington.
A 2020 study by the Conference Board of Canada found that a 300 MWe grid-scale SMR built in Ontario and operated for 60 years would create thousands of direct and indirect jobs from project development through to decommissioning. An independent report by PwC Canada, commissioned by GEH, has estimated that the construction and operation of the first BWRX-300 in Ontario will generate CAD2.3 billion (USD1.8 billion) in GDP, CAD1.9 billion in labour income and more than CAD750 million in federal, provincial and municipal tax revenue over its lifespan, with each subsequent BWRX-300 deployed in Ontario and other provinces is expected to further generate more than CAD1.1 billion in GDP and more than CAD300 million in tax revenue.
"OPG is Ontario's climate change leader and is positioned to become a world leader in SMRs. Together, this partnership will bring jobs and economic benefits to Durham Region, Ontario and Canada, and potential global export of this technology," GEH President and CEO Jay Wileman said.
"This first-of-a-kind reactor represents the future of nuclear power, not only in Canada, but across the world," Heather Thomas, president and CEO of GE Canada, said during the livestreamed announcement. "By making this decision, OPG and Ontario are demonstrating a clear example of how Canada can lead in the global energy transition … Ontario and OPG are positioned to be the first mover in small modular reactor technology globally," she said.
New nuclear technologies such as SMRs represent tremendous economic and environmental opportunities for Ontario and all of Canada, Ontario Minister of Energy Todd Smith said. SMRs can provide reliable and emission-free energy while creating jobs, economic growth and export opportunities, he added. "Our opportunity to be a leader in this technology is right here, right now," he said.