SWITCH Maritime has revealed today (Nov 30) that it has successfully achieved the 'world's first' hydrogen refuelling of a commercial marine vessel earlier this month in California, US.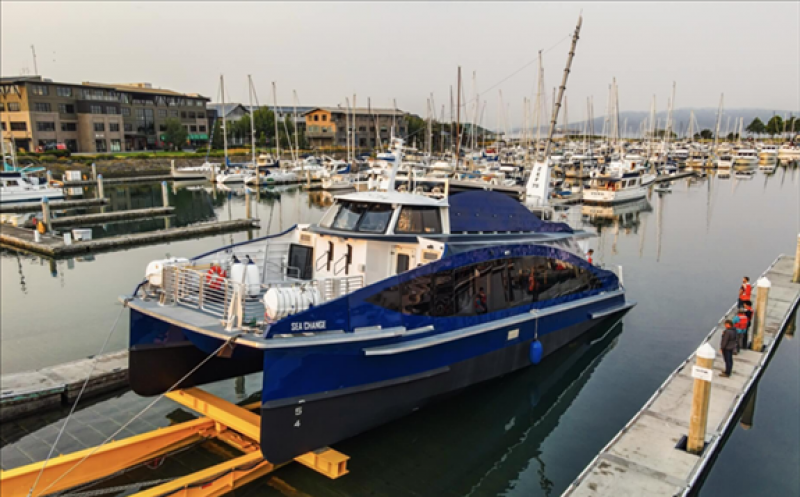 With this, the vessel is now beginning its final sea trials ahead of its delivery with this set to send ripples throughout the maritime industry with a new, zero-emission concept close to being operational.
Dubbed Sea Change, the vessel is equipped with a hydrogen fuel cell power package provided by Zero Emissions Industries (formerly Golden Gate Zero Emission Marine), comprised of 360kW of Cummins' fuel cells and Hexagon hydrogen storage tanks with a capacity of 246kg.
The fuel loaded in the vessel's tanks includes green hydrogen which is produced in California by an electrolyser powered with renewable solar power.
Pace Ralli, CEO of SWITCH Maritime, said, "While it's taken us years to get to this point, the timing couldn't be better.
"In this moment, our nation is more committed than ever to making the transition to a carbon-free economy. Hydrogen will play a major role in that future, and major players in the maritime industry are ready to decarbonise.
"We are grateful to all our partners, and proud to play a small role in accelerating the widescale adoption of hydrogen power. Hopefully this is just the first domino to fall."
Danny Terlip, Lead Engineer at Zero Emission Industries, said, "We're super excited to see the Sea Change start sea trials, and I felt proud watching our fuelling and hydrogen systems operate in the real world for the first time.
"Our whole mission at ZEI is to build new technology that makes hydrogen accessible and easy to use, and this event demonstrates how far we've come."