A year-long, CAD8.4 million (USD6.6 million) contract will see Canada's Candu Energy prepare the licensing basis for two new Candu pressurised heavy water reactors at Romania's Cernavoda nuclear power plant. The signing was celebrated by the governments of Romania and Canada, as well as the USA.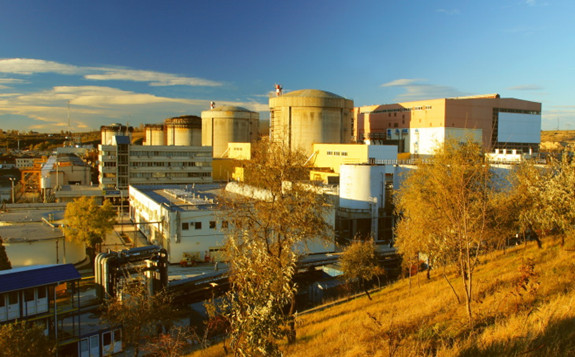 "The potential to develop two new-build nuclear reactors demonstrates that the Romanian government, along with several other of our public sector clients around the world, recognise that safe, reliable, affordable, low-carbon nuclear energy is how we will combat and ultimately, win the battle against climate change,'' said Ian Edwards, president and CEO of SNC-Lavalin, which owns Candu Energy. The deal was signed with EnergoNuclear, the project company set up to complete Cernavoda.
The contract was described as the first in a 24-month 'prepatory stage' towards completing the partially-built Candu-6 units Cernavoda 3 and 4, on which work stopped in 1991.
Candu Energy will update the licensing basis documents and safety design codes for Cernavoda 3 and 4 to bring them in line with the latest Canadian codes and standards as well as European Union safety directives. It will also define the engineering work needed in 'phases 2 and 3' sufficient for their real work content and complexity to be estimated.
Candu Energy will also produce a document that outlines the 'architecture options' for completing the reactor units' steam supply system, as well as the design changes needed to meet today's standards.
Lastly, Candu Energy will re-evaluate the existing buildings at the site to confirm they are fit for a proposed 60-year operational life, assuming a retubing overhaul and refurbishment that is routine for Candu units after about 30 years of service.
"I am glad and I salute the signing of the first contract which advances the development of the Candu units 3 and 4 project in Cernavoda," said Romanian Minister of Energy Virgul Popescu. "The partnership with the USA and Canada will allow our country to achieve our decarbonisation targets. This is an important step and I am very optimistic that in future we will be an energy-independent country."
On behalf of Canada, Ambassador Annick Goulet said, "Nuclear energy is an essential tool on our way to a net-zero economy. It has been a pillar for economic development in Canada since the late 1960s when the Candu nuclear reactor technology became operational. All those years, it has proven incredibly reliable and efficient. We have been happy to share this know-how with our friends and allies."
Although this contract is focused on Canadian contribution, the USA is a major partner for Romania in this project. US Charge d'Affaires in Romania David Muniz said, "The United States is working to provide Romanians with clean, safe, reliable, and affordable energy while ensuring trusted partners contribute to Romania's vital national and energy security needs."
Kathryn Huff, the US Principal Deputy Assistant Secretary for Nuclear Energy, called the signing "a major milestone" adding that it supports the goals of the intergovernmental agreement between the USA and Romania and "continues the strong relationship between our countries in the field of nuclear energy."
In addition, Nuclearelectrica's announcement included a statement from Thomas White, the CEO of US engineering firm Sargent & Lundy, which has previously worked on Candu projects in Canada and Romania. He said, "We're thrilled to continue our business relationship with Candu Energy and Romania," but details of the company's involvement were not immediately available.
Today's 12-month contract represents a major engineering aspect of the project's 24-month 'preparatory phase'. Nuclearelectrica said EnergoNuclear would also be contracting technical, legal and financial support during this period as well as conducting necessary studies and evaluations.
Nuclearelectrica CEO Cosmin Ghita noted that completion of Cernavoda 3 and 4 will bring up to 19,000 indirectly generated jobs while raising nuclear to 36% of electricity supply and 66% of Romania's clean energy total. When all four units are in operation, Cernavoda will avoid a total of 20 million tonnes of carbon dioxide emissions per year, he said.