British American Tobacco (BAT) has completed the construction of eco-friendly solar power facilities at the Sacheon Factory in South Gyeongsang Province, marking its commencement of operations with green energy.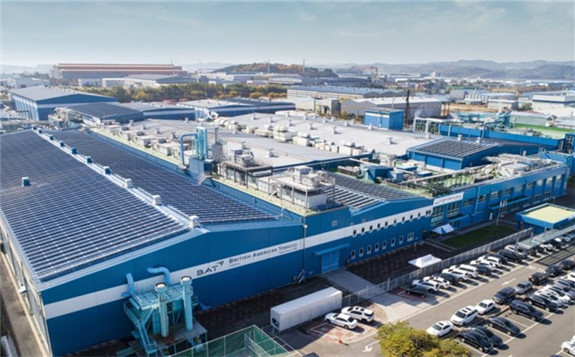 The BAT Sacheon Factory installed solar panels over the entire roof of the factory building as part of its reusable power generation project, one of its environmental initiatives.
The tobacco firm plans to expand the entire eco-friendly energy generating facility to parking lots, where it will operate solar power modules with a total area of 16,000 square meters.
The Sacheon Factory looks forward to a revolutionary carbon reduction effect by operating a solar power facility, which produces up to 1,435 kilowatts of electricity annually.
It is expected to reduce carbon emissions by a total of 781 tons. This is equivalent to transplanting 55,784 pine trees or lowering the use of oil for energy production by 1,930 drums.
In line with this eco-friendly strategy, the BAT Sacheon Factory is also expanding investment in the environment sector, such as recycling factory wastewater and so on.
"A year after announcing the solar energy project, we are happy to fulfill our important environmental pledge," a BAT official at the Sacheon Factory said. "We will continue our efforts to advance our ambition of 'A Better Tomorrow,' as we are implementing various environmental activities, such as carbon reduction, water resource stewardship and waste reduction."
BAT Group recently signed up to participate in the UN-backed Race to Zero global campaign and committed to set science-based targets aiming for net-zero value chain emissions by 2050.
Meanwhile, BAT Group has been included in the World Index of the Dow Jones Sustainability Indices (DJSI) for 20 consecutive years.
BAT is the highest-scoring tobacco company in 2021, with industry leading scores in 11 of the 24 categories assessed, while achieving a top score of 100 percent in 6 categories.
This achievement further demonstrates BAT's continued commitment to its purpose, to build "A Better Tomorrow" by reducing the environmental impact of its business.