NuScale Power and Romanian national nuclear company Nuclearelectrica yesterday signed a teaming agreement to advance the deployment of NuScale's small modular reactor (SMR) technology in Romania. The signing came a day after plans for the cooperation were announced on the sidelines of the COP26 climate conference in Glasgow.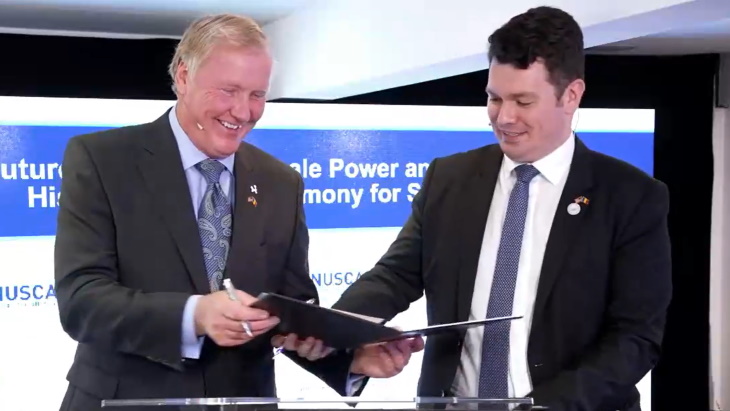 Under the teaming agreement, NuScale will help Nuclearelectrica evaluate its technology, and together, the organisations will take steps towards deploying a first NuScale 6-module, 462 MWe, power plant in Romania as early as 2027/2028.
"Specifically, the teaming agreement outlines the next significant milestones for Nuclearelectrica and NuScale to develop safe, affordable zero-carbon baseload power technology with a focus on retired coal plant sites," a joint statement said. "It will support the government of Romania's National Recovery and Resilience Plan to phase out 4.59 GWe of coal fired energy production by 2032. By repurposing coal plants, Nuclearelectrica and NuScale can help communities and plant workers participate in the transition to decarbonised energy, while also continuing to provide local economic benefits. This teaming agreement serves as a catalyst for deployments in other Three Seas Initiative countries seeking to decarbonise."
The companies estimate the NuScale 6-module power plant will generate 193 permanent power plant jobs, 1500 construction jobs, 2300 manufacturing jobs and help Romania avoid 4 million tonnes of CO2 emissions per year.
"Today's agreement between Nuclearelectrica and NuScale comes at a pivotal time as we meet here in Glasgow to discuss the urgency of accelerating the clean energy transition and getting to net-zero," said NuScale CEO John Hopkins at the signing ceremony.
He added, "Our partnership with Nuclearelectrica began more than two years ago when we signed a Memorandum of Understanding to evaluate the development, licensing and construction of a NuScale SMR power plant in Romania. Today's agreement advances this commitment and creates the opportunity for Romania to deploy the first SMR in Europe and bring in nuclear supply chain opportunities to Romania as well as the vehicle to support capacity building and provide NuScale power plant operational workforce development to others seeking to deploy the technology within the region."
Nuclearelectrica CEO Cosmin Ghita added: "We're bringing now an energy mix and a technology that is safe, clean, resilient, scalable and affordable - matching exactly the goals that we're trying to put here at COP for the next generation.
"Nuclearelectrica is proud to be at the lead, valuing its experience operating at excellent standards and one of the highest performing nuclear plants in the world, into developing the first SMRs in Europe, an energy source that is 100% carbon free and which will reduce environmental footprints and put us on a path toward a zero-emission world."
US government support
The signing of the agreement was welcomed by US Secretary of Energy Jennifer Granholm, who said the USA views nuclear energy as a pivotal technology in the global effort to lower emissions, expand economic opportunity, and ultimately combat climate change. "We have been supporting the development of SMRs for decades, and it is extremely gratifying to celebrate this important milestone for Romania to help them achieve their climate goals," she said.
On 3 November, Under Secretary of State for Arms Control and International Security Bonnie Jenkins announced the USA's commitment of USD25 million in support towards expanding access to clean nuclear energy.
The Nuclear Futures Package includes ongoing programmes and projects under development to: advance large-scale, clean and modern nuclear power generation; demonstrate the potential of nuclear-produced hydrogen to fuel the transition to clean energy; and advance innovative, secure, and safe nuclear technologies such as SMRs.
As part of the package, the USA will partner with Poland, Kenya, Ukraine, Brazil, Romania and Indonesia, among others, to support progress on meeting their nuclear energy goals. Efforts include capacity building, equipment, feasibility and siting studies, demonstration projects, study tours, site visits, technical collaboration, and more.
The Department of State said included in this commitment is the Foundational Infrastructure for the Responsible Use of Small Modular Reactor Technology (FIRST) Initiative, which the USA launched at the Leaders' Summit on Climate. Also included is the US SMR Public Private Program and associated Small Modular and Advanced Reactor Standards and Regulations Workshop Series. These programmes are designed to support key steps necessary for the safe, secure, and responsible deployment of emerging nuclear technologies.