Climate campaigners and environmental activists have sharply criticized the organization of the COP26 climate summit, describing U.N.-brokered talks as the most exclusionary they have ever known.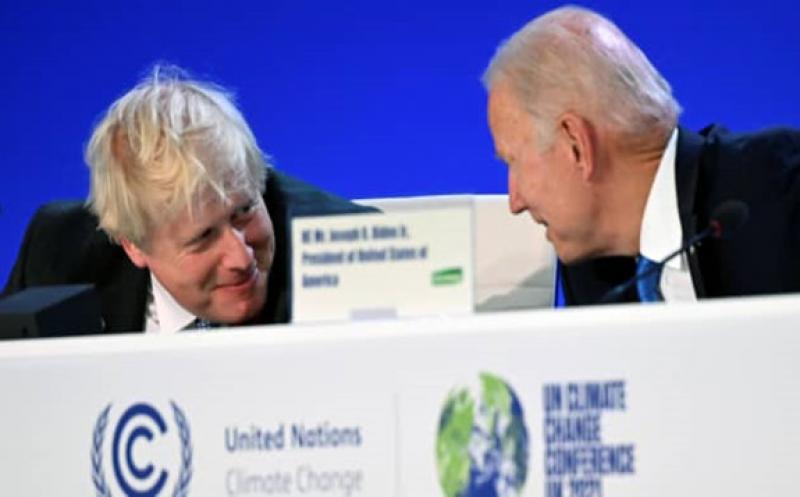 The meeting, which formally opened on Sunday, has been billed as humanity's last and best chance to prevent the worst of what the climate crisis has in store. The U.K. is presiding over the talks in Glasgow, Scotland through to Nov. 12.

Logistical difficulties, the exclusion of people with disabilities and a lack of attendees from the Global South are just some of the criticisms leveled at the event organizers.

"The UK is committed to hosting an inclusive COP," a COP spokesperson said in a statement.

"Ensuring that the voices of those most affected by climate change are heard is a priority for the COP26 Presidency, and if we are to deliver for our planet, we need all countries and civil society to bring their ideas and ambition to Glasgow," they added.

"I'd like to be polite," Asad Rehman, a spokesperson for the COP26 coalition, told CNBC Tuesday when asked about his experience of COP26 so far. "But it will go down as the worst planned, worst organized and least effective COP that I have ever known. It is just unbelievable."

Rehman, who said he had been attending U.N. climate talks for over a decade, estimated that only one-third of the usual number of participants representing the Global South had been able to attend COP26 due to Covid-19 restrictions, a lack of affordable accommodation and an inability to access the conference.

This "seriously undermines" the credibility of the meeting, he said, before adding that some civil society groups in attendance had also been "locked out" of negotiations. The COP26 coalition is a U.K.-based group that represents indigenous communities, frontline activists and grassroots campaigns from the Global South.

The start of the week saw chaotic scenes outside the venue, with attendees stuck in long lines trying to gain access to the complex at the SEC in Glasgow.

COP26 President Alok Sharma told reporters earlier in the week that he "regrets" delegates have had to endure lengthy lines to enter the venue.

"This is a unique COP in quite extraordinary times," Sharma said on Wednesday. "Of course, we regret any logistical issues that people feel are stopping them coming in in a timely manner. I hope that will settle over the next few days."

'Two week celebration of business as usual'
Swedish climate activist Greta Thunberg, who is expected to take part in a climate protest on Friday with thousands of other young people, said COP26 could no longer be considered a climate conference.

"This is a Global North greenwash festival," Thunberg said via Twitter on Thursday, referencing criticism that the Glasgow summit has been described as "the most excluding COP ever."

"A two week celebration of business as usual and blah blah blah," she added.

It follows a pledge from the U.K. government to make the Glasgow summit "the most inclusive COP ever," saying extra measures would be put in place to alleviate concerns about safety and inclusivity at the event amid the coronavirus pandemic.

However, U.N. climate chief Patricia Espinosa admitted that measures put in place due to the coronavirus pandemic meant the summit could not be as accessible as previous COPs.

The Climate Action Network, a global alliance of more than 1,500 environmental campaign groups, called for the event to be postponed in early September, citing concerns that it would be "impossible" to ensure a safe, inclusive and just global climate conference.

Alexandria Villasenor, a youth U.S. climate activist, has described the summit as an "exclusionary dystopian hellscape."

"First, it's true, there's one entrance for 20k attendees, it's like a single file line for everyone to get in and get through security. I've spent 4 hours in line over the past 2 days. It's chaos and a failure on the part of the organizers," Villaseñor said via Twitter on Wednesday.

The 16-year-old said civil society groups and NGO observers had been unable to access negotiation spaces in-person and were instead left to observe the main plenary sessions online in a separate room.

Villasenor also criticized the summit for failing to consider the inclusion of people with disabilities, citing no sign language interpreters on the COP26 stage and no wheelchair access.

Israel Energy Minister Karine Elharrar was unable to take part in the COP26 summit at the start of the week because the venue was not wheelchair accessible. She has since criticized the U.N. for failing to provide accessibility to its events despite it promoting the importance of ensuring accessibility to those with disabilities.

U.K. Prime Minister Boris Johnson apologized to Elharrar when the pair met on Tuesday, Reuters reported.

Dipti Bhatnagar, a climate justice and energy co-coordinator for Friends of the Earth International, an environmental group, said last week that the U.K. was on course to deliver "the most exclusionary COP ever."

Bhatnagar, who was not able to travel to Glasgow from Mozambique where she is based, said on Sunday: "The chaotic and last minute nature of plans to help support participation from overseas are too little too late for many delegates from global south countries."

"It is hard to see how COP26′s outcomes could be considered fair and legitimate with those on the frontline of climate impacts unable to make their voices heard in the streets of Glasgow and in the halls of the COP," she added.