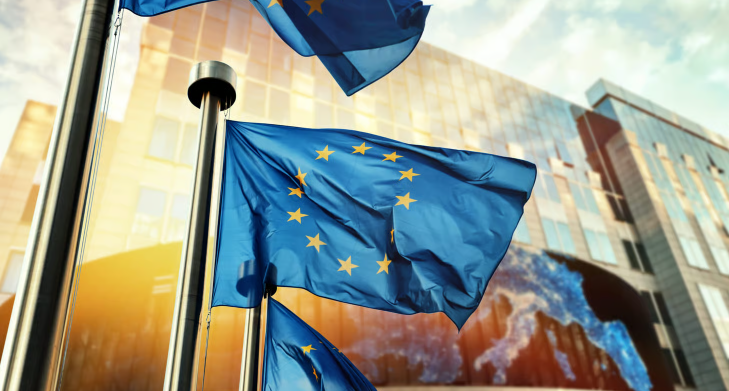 The European Commission has today (February 13) proposed rules for the definition of renewable hydrogen in the EU with two Delegated Acts under the Renewable Energy Directive (RED).
The Acts, part of a broad EU regulatory framework, are aimed at ensuring that all renewable fuels of non-biological origin (RFNBOs) are produced from renewable electricity, with hopes they will provide regulatory certainty for investors as the EU strives to meet its REPowerEU goals of domestically producing 10 million tonnes of renewable hydrogen and imported 10 million tonnes by 2030.
Under the first Delegated Act, the Commission has clarified the principle of additionality for hydrogen, set out in the EU's RED. Electrolysers will have to be connected to new renewable electricity production, which the commission says is aimed at ensuring the generation of renewable hydrogen incentivises an increase in the volume of renewable energy capacity.
The Commission has estimated around 500TWh of renewable electricity will be needed to meet its REPowerEU goals, reflecting 14% of total EU electricity consumption in 2030.
To take into account existing investment commitments and allowing the sector to adapt the new framework, the Commission has said the rules will be gradually phased in, and designed to become more stringent over time, foreseeing a transition phase of the requirements on additionality for hydrogen projects that will start operating before January 1, 2028.
H2 View understands the requirements of the Act will apply to both domestic producers as well as producers from third countries that want to export renewable hydrogen to the EU. The Commission said, "A certification scheme relying on voluntary schemes will ensure that producers, whether in the EU or in third countries, can demonstrate in a simple and easy way their compliance with the EU framework and trade renewable hydrogen within the Single Market."
The second Delegated Act offers a methodology for calculating lifecycle greenhouse gas (GHG) emissions for RFNBOs, taking into account upstream emissions, emissions associated when taking electricity from the grid, processing, and transporting.
Additionally, the methodology clarified how to calculate the GHG emissions of renewable hydrogen or its derivatives in case it is co-produced in a facility that produces fossil-based fuels.
H2 View understands under the Act, the GHG emissions shall be calculated on emissions from supply of inputs, processing, transport and distribution, combusting in its end use, and savings from carbon capture and geological storage.
Hydrogen will be considered renewable when the emission intensity of electricity used is below 18g C02e/MJ. Electricity taken from the grid can be considered fully renewable. Criteria for temporal and geographic coloration will apply.
The exception will apply as long as a country's electricity production emits less than 65g of CO2e per kilowatt hour. Within the EU, only France and Sweden meet this criteria. In 2021, when its nuclear fleet was almost fully operational, French power emissions stood at 56g CO2e/KWh. Sweden at an average of 28gCO2e/KWh.
"Renewable hydrogen is a critical component of our strategy for a cost-effective clean energy transition and to get rid of Russian fossil fuels in some industrial processes," said Kadri Simson, Commissioner for Energy.
"Clear rules and a reliable certification system are key for this emerging market to develop and establish itself in Europe. These delegated acts provide much-needed legal certainty to investors and will further boost the EU's industrial leadership in this green sector," added Simson.
The two acts come after numerous calls from across the hydrogen industry for clarification on hydrogen standards. Following the news of the Commission's planned subsidy auction programme for renewable hydrogen producers in the EU, earlier this month (February 1), H2 View was told at Hyvolution in Paris, that certification was needed before incentives.
"We have been waiting for maybe four or five years for a true definition of what renewable hydrogen is," François Dedieu, Head of Strategy at H2V said to H2 View. "We need to know what the constraints are for the electricity that will be provided to electrolysers."
Following today's adoption, the Acts will be sent to the European Parliament and Council for two months of scrutiny ahead of accepting or rejecting the proposals. At the Parliament or Council's request, the scrutiny period can be extended by two months, but neither can amend the Acts.
Under the Green Deal Industrial Plan, the Commission plans to launch the first series of auctions to receive a fixed premium per kg of green hydrogen, amounting to €800m.
Speaking to H2 View, Bart Biebuyck, Execuitive Director of the Clean Hydrogen Partnership suggested the scheme would encourage hydrogen offtake helping electrolyser companies scale and reduce costs.
Beibuyck said, "What will actually happen with this initiative is that we will really kickstart the commercialisation of electrolysers and hydrogen." He concluded, "I think we have now taken a forward towards commercialisation."