Oil and gas company Empyrean Energy has made significant operational progress towards spudding the LH 17-2-1 exploration well at the Jade prospect on Block 29/11, offshore China, in December 2021.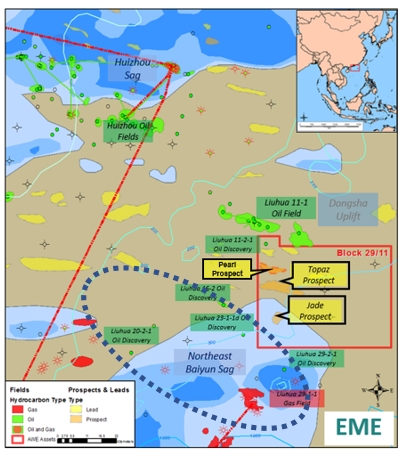 Empyrean is the operator of Block 29/11 in China and has 100 per cent working interest during the exploration phase. In the event of a commercial discovery, its partner, CNOOC, has a back-in right to a 51 per cent participating interest in the development and production phase.

Empyrean has now engaged CNOOC EnerTech-Drilling & Production, a subsidiary of CNOOC, to manage a number of critical pre-drilling permitting and logistical requirements as well as perform a major managerial role over all aspects of the drilling operations.

According to its update on Wednesday, Empyrean has held several discussions and meetings with CNOOC EnerTech in order to secure its services to assist with the pre-drill logistics and management of the drilling operations. These discussions resulted in defining a broad mandate for the engagement. Three teams have been formed to work in a phased manner to coordinate and manage the drilling operations.

The Onshore team will be responsible for finalising the drilling and geological program for the well in line with CNOOC's requirements. In addition, this team will be responsible for applying for and securing all necessary permits ahead of drilling operations.

Finally, this team will develop safety and emergency response procedures and documentations. The Onshore team has already started systematic work for securing several drilling permits, and have started engagement with COSL Drilling for verification of wellhead and casing specifications. CNOOC EnerTech team is also preparing a comprehensive Emergency Response Plan (ERP) for conducting safe drilling operations.

The Offshore team will join the Onshore team 15 days prior to rig mobilisation to the drilling location and will be involved in managing day-to-day drilling operations on the rig.

In the event there is an oil pay in the well (success-case), a Well Test team will join the Offshore team in the rig, and will be responsible for the comprehensive well testing operations.

COSL was awarded an Integrated Drilling Contract (IDC) for the drilling of the Jade exploration well in early September 2021, confirming rig availability and a target spud date of 15 December to 30 December 2021.