India has a goal of reaching net zero emissions by 2070, prime minister Narendra Modi said at the UN Cop 26 climate conference today.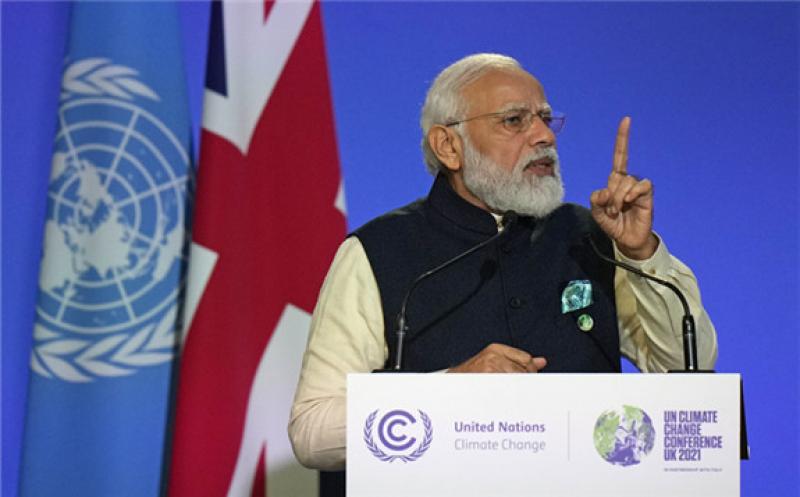 Modi said this will be met by national targets for increased renewable capacity and reduced carbon emissions. These include a plan to increase non fossil fuel-fired power generation capacity to 500GW by 2030 and for 50pc of its energy demand to be covered by renewables by 2030.
These targets will help India reduce projected carbon emissions by 1.0bn t by 2030, and will reduce its carbon intensity by 45pc by the same year, according to Modi. The current share of renewables in India's generation mix is just 12pc, even though it accounts for 26pc of installed capacity, according to the Central Electricity Authority. Coal accounts for 70pc of power generation.
India, which is the world's third-largest carbon emitter, after China and the US, had been reluctant to bind itself to a net zero target, with government officials recently calling for climate finance from advanced economies to help it achieve its emissions reduction targets. India targeted emissions cuts of 33-35pc by 2030 from 2005 levels as part of the 2015 Paris agreement. Oil minister Hardeep Singh Puri said at the recent India Energy Forum by CeraWeek in Delhi that conventional fuels will be around for a while in the country, with gas serving as the transition fuel and renewables at a nascent stage.
Modi today called for global efforts to ramp up climate finance and for increased pressure on countries that are not meeting their climate financing commitments. India expects developed countries to make $1 trillion available in climate finance as soon as possible, Modi said, calling the promises made so far on climate finance "hollow". The global attitude to climate finance cannot remain at the same level as it was in 2015, he said.
India is a big importer of fossil fuels, relying on them to meet 85pc of its crude needs, over 55pc of its gas demand and around 60pc of its LPG requirements. The country's oil demand will rise to 7.1mn b/d by 2030 from 5mn b/d in 2019, leading to net dependence on imports of 91pc by 2030, the IEA said in its India Energy Outlook 2021 report.