Van Moer Logistics and Delhaize have started operating a dual fuel hydrogen truck as part of a 12 month test phase before a further 500 trucks can be rolled out.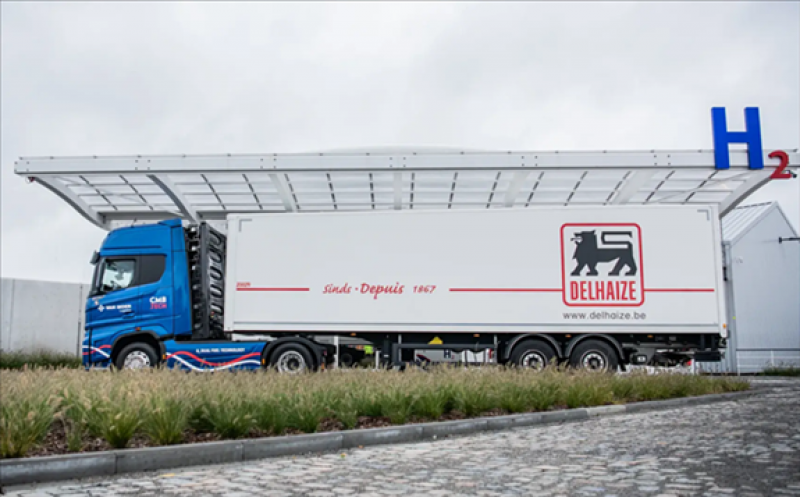 Unveiled today (Oct 28), the hydrogen dual fuel truck, delivered by CMB.TECH, will be refuelled at a multimodal hydrogen refuelling station in Antwerp.
This truck additionally supports longer ranges, is cheaper to buy, and has no loss of cargo space on the trailer.
A unique factor of these trucks is that it can add hydrogen as a fuel to its converted diesel engine to both consume less diesel and produce less carbon emissions.
Using the hydrogen, the truck has a range of up to 500km and, if necessary, can continue to run for another 300km on diesel.
Jo Van Moer, founder and CEO of Van Moer Logistics, said, "The dual fuel functionality is what makes this truck so interesting, the goal is to drive 100% on hydrogen, but in daily life on the road you have to take unpredictable factors into account such as traffic jams and waiting hours.
"Thanks to the diesel reserve, we don't have to worry about the truck running out of fuel in the middle of its journey.
"By applying this technology to the new trucks, we buy today, we can continue to operate in the usual way, but enable the scale-up of hydrogen refuelling stations and the associated infrastructure."Alexander Saverys, CEO of CMB.TECH, said, "We were looking for a reliable and stable partner who was willing to go through the testing phase of our hydrogen truck with us.
"Van Moer Logistics shares our vision of reducing the emissions of the transport industry with financially viable and reliable technologies.
"Testing this first CMB.TECH hydrogen truck is a first step towards rapidly scaling up and rolling out more similar trucks on European roads by 2022."