Korea Hydro & Nuclear Power (KHNP) signed a contract on Oct. 25 to sell heavy water to Qinshan Nuclear Power Plant via China Nuclear Energy Industry Corp. (CNEIC).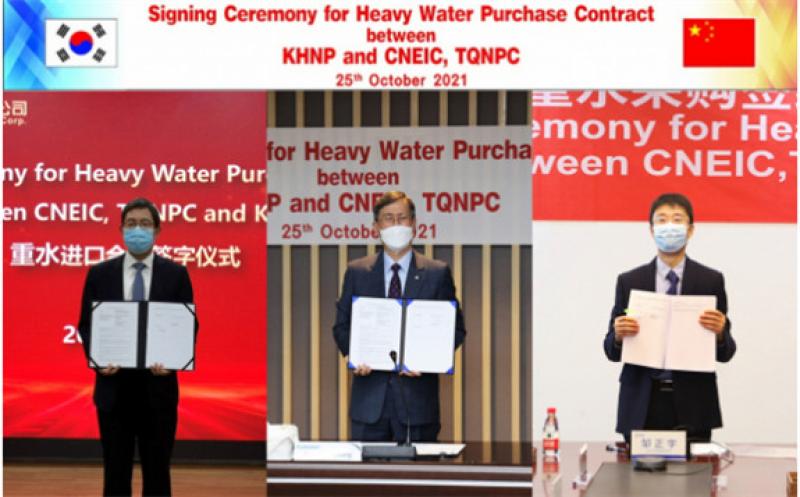 CNEEIC is a company in charge of importing and exporting nuclear fuel cycle products in China. Qinshan Nuclear Power Plant, which began commercial operation in 2002, uses the same heavy-water reactor as that of Korea's Wolseong Nuclear Power Plant. It is preparing to make a big improvement to facilities for continuous operations, including the replacement of pressure pipes, in 2028.
The gist of the contract is to supply 80 tons of heavy water at Wolseong Nuclear Power Plant in Korea to Qinshan Nuclear Power Plant by October next year. The contract value is about four billion won. The contract implies that the two Chinese companies recognized KHNP's technological excellence in nuclear power plant operations, including its ability to manage the quality of heavy water. It is expected to have a positive impact on subsequent large-scale projects, such as technical support for replacing pressure pipes at Qinshan Nuclear Power Plant.
"Unlike the material and equipment supply business, heavy water sales are a new business model created thanks to KHNP's outstanding ability to operate nuclear power plants and equipment," KHNP president Chung Jae-hoon said. "KHNP will steadily tap into overseas markets by expanding its business areas into consulting on the construction and operation of nuclear power plants and technical support services."