China is rapidly expanding the safe use of nuclear power as the country steams toward an ambitious carbon neutrality goal.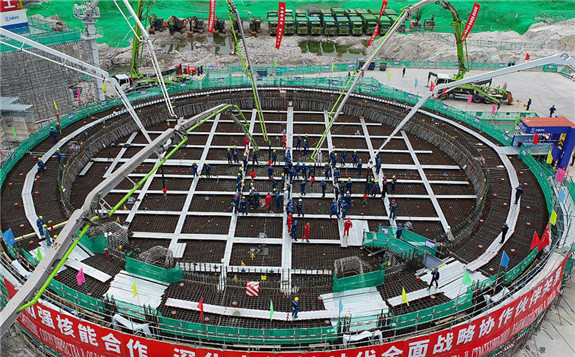 Tianwan Nuclear Power Plant, an under-construction mega project that received much of the world's attention this year, is a key testimony to China's carbon commitment, which aims to peak its greenhouse gas emissions by 2030. The plant, located in eastern China's coastal city of Lianyungang, adopted third-generation nuclear power technologies, a safer, more efficient way to build the powerhouse that fuels the economy.
A large part of the Tianwan plant is already injecting electricity into the power grid. The current expansion plan focuses on two new units of the power plant, which is scheduled to become operational in five years. Once completed, it will be crowned as the world's largest nuclear power plant by output, with a safer and smarter performance.
After construction, the new project will boost the plant's total capacity to up to 70 kilowatt hours a year, enough to power 100 million households for three months. That's the equivalent of 15 million tons of carbon emissions being reduced.
As the world's second-largest economy and a manufacturing hub, China is trying to enhance self-reliance in energy amid a global power shortage and growth in its full-year economic targets. Nuclear power is set to play an increasingly important role in the country's power supply, especially after the government has set strict emissions targets.
China on Sunday laid out specific targets and measures to curb emissions in the coming decades. The country aims to gradually increase the share of non-fossil energy consumption to around 20 percent by 2025, around 25 percent by 2030, and over 80 percent by 2060, according to the document jointly released by the Communist Party of China Central Committee and the State Council.
Some countries, including Germany and Japan, are giving a second thought to construction of nuclear power plants since an earthquake-triggered tsunami dealt a devastating blow to Japan's Fukushima nuclear plant a decade ago.
China has put the construction and operations of the Tianwan plant under strict safety inspection to make sure it is one of the safest nuclear power plants worldwide. Local authorities also launched safety inspections to reaffirm that the Tianwan plant is running smoothly.
"Compared to unit 3 and 4, we installed a passive containment system to further prevent and mitigate possible accidents," Wei Jianguang, deputy director of the Environment Emergency Department at the Tianwan Nuclear Power Plant, told CGTN. The new units, including unit 7 and 8, meet the international standards for third-generation nuclear power.
The construction of the Tianwan plant also sets a good example of international technology collaboration. Russian engineers and constructors have been working on the site for more than 15 years, providing key knowledge to what is the largest energy partnership between Russia and China.
Minakov Sergey, head of the Russian team, is one of them.
"Upholding safety, Chinese experts have made innovations in advancing the economic efficiency of the units," Sergey said. "And we've received much potential cooperation in this regard."