China has listed specific goals and measures it will take to achieve its carbon emissions peak and carbon neutrality goals, such as banning unplanned new oil refining and coal-to-olefin projects, according to a sweeping policy guidance released on Sunday.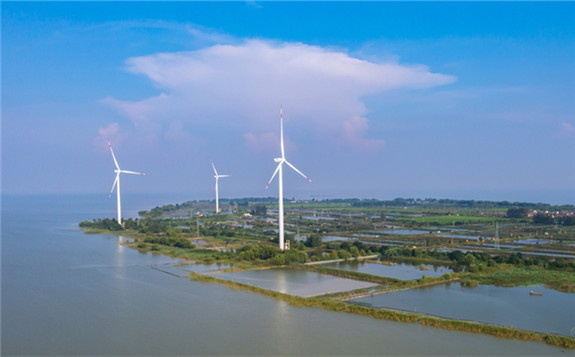 The guidance, released jointly by jointly released by the Communist Party of China Central Committee and the State Council, the cabinet, marks the most comprehensive document on the country's path to carbon neutrality goals.
Coming at a time when the country is facing power shortages, the document also underscored China's firm determination in pushing for green development and pursuing its ambitious goals, experts noted.
Stressing that China would insist on a low-carbon, high-quality development pattern and strive to accomplish its carbon goals on time, the document listed a number of specific targets to achieve in order to meet the ultimate carbon emissions goal.
For example, it noted that China's proportion of non-fossil energy consumption, which experts read as clean energy sources like wind power, will account for about 20 percent of the country's total energy consumption by the end of 2025. The proportion would increase to about 25 percent in 2030 and more than 80 percent by 2060.
The document also noted that China's carbon dioxide emissions per unit of GDP will decrease by more than 65 percent by 2030, compared with 2005, while the gross installed capacity of wind and solar power will reach more than 1.2 billion kilowatts by 2030. The forest coverage rate will also hit about 25 percent by that time.
To make these goals happen, the government has designated a number of measures it would take to push the initiative and tackle challenges.
In particular, China will roll out capacity control policies for the coal power industries. The country will also ban new energy-intensive projects like oil refining or ethylene, if they are not included in the country's industrial plans.
China will also formulate carbon emissions peak implementation plans for industries, including energy, steel and architecture, while promoting new strategic industries like new-energy cars and biotechnology.
The release of the document has again showed China's determination to hold to a green development mode despite the challenges and hurdles, experts said.
"The country's move to overturn its current energy system, which seems to have been effective enough for its economic growth in the past, shows the country's responsibility as a global economic powerhouse to tackle global climate change," Lin Boqiang, director of the China Center for Energy Economics Research at Xiamen University, told the Global Times on Sunday.
It also came after a recent nationwide power crunch, which pushed the government to focus on increasing coal supply, again raising doubts as to whether China would be able to handle the challenges of adjusting carbon emissions, which will necessarily result in lower coal production.
Lin said that short-term measures to ensure coal supply do not conflict with the country's long-term goal in the coming years and decades of reducing carbon emissions.
"In order to prevent future power crunches amid carbon reductions, measures are necessary to change the industrial structure by reducing industrial electricity. At the same time, the proportion of coal electricity must be lowered and replaced by clean power," Lin said.
He acknowledged that such transitions would bring some short-term challenges, as the current wind power systems are not stable enough, and a lot of extra costs might be generated during the process.
"However, the carbon goal is a countdown mechanism that must begin from now, and it's necessary for China to explore a path with its technological research and fiscal policy support to achieve the goals," he said.
The policy guidance on Sunday also noted that China will effectively cope with the potential financial and economic challenges brought by the low-carbon transition to secure "safe carbon reductions."
Tian Yun, an economist based in Beijing, stressed that the push for carbon neutrality would not be that easy in central and eastern China, where manufacturing industries are heavily concentrated.
"I think that the push for the carbon goals should also take place in an orderly way, maybe starting from provinces not reliant upon manufacturing industries like Northwest China's Qinghai and South China's Hainan, before being extended to other regions," he said.
But he also said that China is pushing the green development goals at a very good time, as its economy is showing better-than-expected achievements in sectors ranging from exports to employment.
"This is a good time for China to focus on livelihoods and economic structural adjustment, as it does not need to worry too much about economic growth."