China's cities are gearing up for the development of hydrogen fuel cell energy, another green energy solution for vehicles, and have released specific plans for the industry over the next decade.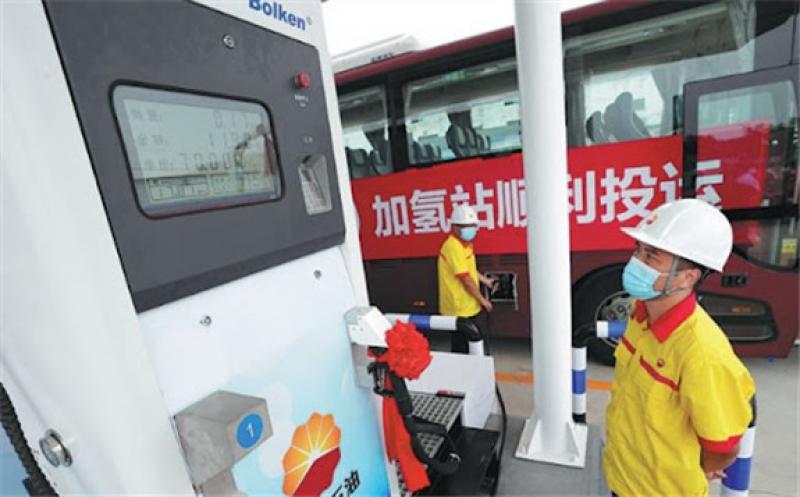 As a widely available and clean energy, hydrogen is seen by many as a potential substitute for fossil fuels, and the promotion of hydrogen is in line with China's targets of reaching carbon dioxide emissions peak by 2030 and carbon neutrality by 2060.
More than 10 provinces and cities have released plans for the development of hydrogen fuel cell vehicles. The latest is China's capital city, Beijing, that announced last week the target of having 3,000 hydrogen vehicles on the road and building 37 hydrogen filling stations by the end of 2023. It expects the number of hydrogen vehicles on the roads to exceed 10,000 by 2025.
The city government said it will support the development of the industrial system and infrastructure for hydrogen energy; cultivate 10-15 leading enterprises; form an industrial cluster for key components and equipment manufacturing; and build three or four world-class industrial research, development and innovation platforms by 2025, according to a hydrogen energy industry development blueprint released by the Beijing Municipal Bureau of Economy and Information Technology.
Statistics show there were around 150 hydrogen-related companies and institutions in Beijing by the end of 2020. The industry achieved output value of 3 billion yuan ($462 million) last year.
Beijing is one of the first cities to develop the hydrogen energy and fuel cell industry. With 20 years of research and development, the city has built an industrial chain in the Beijing-Tianjin-Hebei region.
The scale of the hydrogen energy industry chain in the Beijing-Tianjin-Hebei region will surpass 100 billion yuan by 2030, and it is expected to reduce carbon emissions by 2 million metric tons.
Since hydrogen energy has been listed among China's Long-Range Objectives Through the Year 2035 and become one of the national six future industries this year, it has received unprecedented attention.
According to the Hydrogen Industrial Technology Innovation Alliance of China, the country's hydrogen energy industry output value will reach 1 trillion yuan by 2025.
Demand for hydrogen will approach 60 million tons and a carbon dioxide emissions reduction of 700 million tons will be achieved by 2050.
The alliance expects hydrogen will account for more than 10 percent of the country's terminal energy mix and become a new growth pillar in the economy with annual output value exceeding 12 trillion yuan by 2050.
Shanghai has also designated hydrogen energy as one of the six industrial development focuses in its 14th Five-Year Plan (2021-25).
According to the Shanghai government, the city has nearly 1,500 hydrogen cars and nine hydrogen fueling stations in use. It plans to have more than 70 hydrogen stations covering the five newly planned satellite cities and Hongqiao and Pudong airports by 2025.
Guangzhou in South China's Guangdong province is intensifying efforts to develop a sophisticated hydrogen energy industrial system with the target of achieving an industry valued at 200 billion yuan by 2030.
Guangzhou plans to build a hydrogen energy industrial chain with a production value of over 60 billion yuan by 2025, and an industrial system that consists of production, storage, transaction and application with an output value of 200 billion yuan by 2030.
More than 20 hydrogen energy projects with investment totaling over 4 billion yuan have been introduced in Guangzhou.
The cities of Rugao and Zhangjiagang in Jiangsu province, Jiaxing and Ningbo in Zhejiang province and others are all making efforts to promote the industrialization of hydrogen fuel cell vehicles.
A pilot city for the application of hydrogen energy buses, Jiaxing has introduced 104 hydrogen fuel cell buses and built four hydrogen filling stations.
Sales of hydrogen vehicles in China have grown from 10 in 2015 to more than 7,000 in 2020. Commercial hydrogen fuel cell vehicles have been used in logistics, public transportation and other sectors, according to Ma Lincong, director of National Technical Committee of Hydrogen Energy.
Zhang Jiujun, director of College of Sciences under Shanghai University, said at the 2021 Jiaxing Hydrogen Industry Development Summit held last month, the industry needs to focus on two challenges, which are reducing the production cost of fuel cells and building more hydrogen filling stations.
Although China faces challenges in hydrogen fuel cell technologies, storage and transportation, Zhang said he is confident in China's high-quality development of hydrogen energy.