Man Energy Solutions, a company specialising in the production of diesel engines and heavy-duty turbo machinery for marine and stationary applications, has agreed with Taqa Power, the subsidiary of the Egyptian group Taqa Arabia, for a green hydrogen pilot project. This solution will be applied in public transport in the coming months.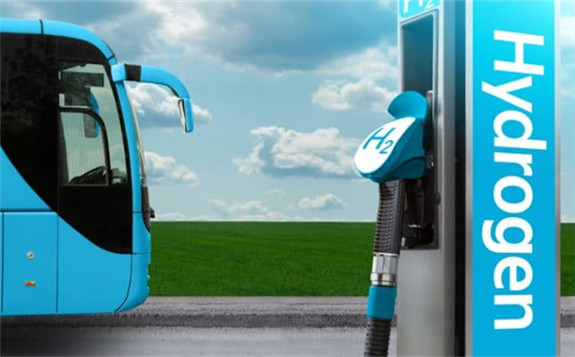 News on the development of green hydrogen in Egypt. Two private companies have decided to work together on a pilot project to produce this alternative energy. The company is Man Energy Solutions, which specialises in the production of diesel engines and heavy-duty turbo machinery. The Augsburg (Germany) based company will work with Taqa Power, the subsidiary of the Taqa Arabia Group based in Cairo, Egypt.
Representation of a green hydrogen production unit ©Man Energy Solutions.
As part of the partnership, Man Energy Solutions will provide technical information to Taqa Power on the use of electrolysis for a hydrogen plant solution. Electrolysis is the process of converting electrical energy into chemical energy, including hydrogen. The transformation of clean electricity thus enables the production of green hydrogen.
Hydrogen for public transport
"This is an exciting project with a valuable partner in a country that has recognised the incredibly important role of green hydrogen on the road to a climate neutral global economy. It is also an excellent opportunity for Man Energy Solutions to demonstrate its expertise in all stages of the transformation of the hydrogen economy. We look forward to working closely with Taqa Power to find the optimal solution that will enable them to position themselves strongly in what will be one of the most important markets of the future," says Ghassan Saab, Head of Energy Business at Man Energy Solutions.
The two partners plan to operate their green hydrogen pilot plant by autumn 2022. The green hydrogen produced will be used to power buses serving tourist sites in Egypt. The project will support Cairo's drive to develop an integrated strategy for green hydrogen production. The aim is to enable Egypt to produce and use hydrogen using renewable energy rather than fossil fuels.
The Egyptian government also plans to invest $4 billion in developing the green hydrogen market in the coming years. This project is in line with its ambition for renewable energy production. In addition to Man Energy, the local production of green hydrogen is of interest to giants such as Germany's Siemens, which a few months ago launched studies for a green hydrogen project. Recently, the Italian oil company ENI announced an agreement with the authorities for the production and export of green hydrogen.