A hydrogen hub is on the horizon for the Bakken, in about half the time it usually takes, according to a release from Bakken Energy.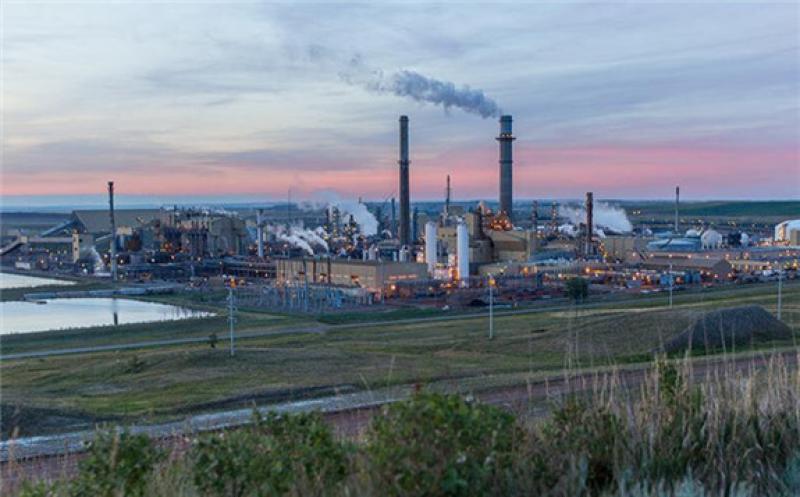 The infrastructure development company announced Monday, Aug. 16 that an agreement has been reached with Basin Electric Cooperative to purchase the assets of the Dakota Gasification Company, which owns the Great Plains Synfuels Plant. The deal is expected to close April 1, 2023, subject to satisfaction of specified conditions. Among the terms of the agreement, the Synfuels Plant will continue its existing operations through 2025.
Brand new clean hydrogen production facilities normally take 10 years to build and become operational. But redevelopment of the Synfuels plant, which already has some of the necessary infrastructure in place along with several hundred experienced personnel, will take just five.
Once operational, the plant will produce 310,000 metric tons of hydrogen per year, using primarily locally sourced natural gas. The hub is seen as a key element to Gov. Doug Burgum's plans to make the state net carbon neutral, or even net carbon negative, by 2030.
"The North Dakota Hydrogen Hub will create a foundation for economic growth and technical innovation extending throughout the upper Midwest," Bakken Energy CEO Mike Hopkins said. "Driven by our commitment to achieve rapid and large-scale clean hydrogen production, Bakken Energy and our partner Mitsubishi Power have reimagined what is possible and identified the optimal path to leap from blueprint to clean hydrogen production in the shortest time possible. The North Dakota Hydrogen Hub will become a critically important, centrally located hydrogen complex and part of a nationwide, interconnected collection of hubs spanning the country."
President and CEO of Mitsubishi Power Americas Paul Browning said North Dakota's blue hydrogen plant is key to advancing its strategic goals to decarbonize the energy industry.
"The redevelopment of the Synfuels Plant rapidly advances Mitsubishi Power's strategic objective to deliver energy solutions that allow our customers to address climate change and advance human prosperity; delivering decarbonized hydrogen and ammonia solutions throughout the United States is central to this objective," said Paul Browning, President and CEO of Mitsubishi Power Americas. "The centrally located North Dakota Hydrogen systems will connect our planned western and eastern U.S. hubs to establish a national hydrogen network. Together with our customers, we are creating a Change in Power.
Blue hydrogen has been criticized recently by a study out from Cornell and Stanford University, which claims that blue hydrogen produces more greenhouse gases than simply burning natural gas would. However, the Beulah plant will be using a different process than steam methane reformation. It will instead use advanced auto thermal reforming for hydrogen production, and intends to capture 95 percent of the carbon emissions.
"Today's announcement that Bakken Energy has reached agreement with Basin Electric on terms to develop a world-class clean hydrogen hub in North Dakota is of historical significance for our state and nation and heralds the extension of North Dakota being home to innovative leadership in fueling and feeding the world," North Dakota Gov. Doug Burgum said. "The North Dakota Hydrogen Hub will lead to the establishment of new industries, create high-paying jobs and the development of new domestic and foreign markets. This project illuminates how the power of innovation over regulation can save versus destroy jobs. Congratulations to Bakken Energy, Mitsubishi Power and Basin Electric for their expansive vision to leverage the existing Synfuels Plant, its talented workforce, and North Dakota's abundant resources to grow our economy and achieve our shared carbon neutrality objectives."
The Synfuels Plant was built in 1984 in response to the 1970s energy crisis to make natural gas from lignite. That pioneering history makes it especially fitting as the future home for what will be North America's largest blue hydrogen hub, Bakken Energy Chairman and Founder Steve Lebow said.
"Today is the dawning of the hydrogen economy in the United States of America," he said. "Rapidly establishing the viability of low-cost clean hydrogen supply to meet the acceleration of clean hydrogen demands is critical to developing our nation's hydrogen economy."
Carbon dioxide is already being captured at the Synfuels plant to send to Canada for enhanced oil recovery. The plant also recently received approval from the Public Service Commission to build out a series of carbon dioxide laterals that will connect to six geologic storage wells for carbon sequestration.
"The announcement today represents the hard work of committed individuals at Basin Electric, Dakota Gas, Bakken Energy, and Mitsubishi Power," said Paul Sukut, Chief Executive Officer and General Manager of Basin Electric Power Cooperative. "Our commitment is to get this right and choose the best option for our employees, our members, and area communities."