Decommissioning of the RBMK reactor at Leningrad 1 has reached a milestone with the removal of all fuel from the reactor core. Rosenergoatom plans to use some of the fuel in the two RBMK reactors which remain in operation at the Leningrad site.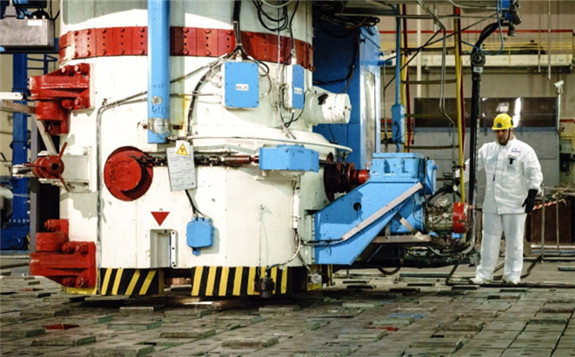 After 45 years of power generation, Leningrad 1 was shut down permanently in December 2018. The owner and operator of the plant, Rosenergoatom, began to move used fuel assemblies from the reactor core to nearby storage pools after leaving them to cool for about a year. That operation has now been completed.
Rosenergoatom plans to re-use some of the fuel in other reactors at the plant. Fuel assemblies with more than half of their design 'burn-up' remaining will be transferred to reactors 3 and 4. Plant manager Vladimir Pereguda said this avoids the purchase of around 500 fresh fuel assemblies and also means a net reduction in the amount of highly radioactive used fuel assemblies his teams have to handle overall.
Before the end of 2023 all the fuel is planned to have been removed from Leningrad 1 to the power plant's main storage facility, said Rosenergoatom. In the long term, Russia has central facilities for storage, reprocessing and recycling of RBMK fuel at the fuel cycle centre at Zheleznogorsk.
The Leningrad plant and its neighbour Leningrad II produce about 55% of the electricity used in the city of Saint Petersburg and the highly industrialised Leningrad region, said Rosatom. As the first two of the Leningrad plant's four RBMK-1000 units have shut down in 2018 and 2020 respectively, new VVER-1200 units have started at Leningrad II. The 60-year service life of the new units secures power supply until the 2080s.