Construction of unit 3 at the Xudabao nuclear power plant in China's Liaoning province officially got under way on 28 July with the pouring of first concrete for the reactor's nuclear island. The unit is one of four VVER-1200 reactors to be supplied by Russia to China under a 2018 agreement.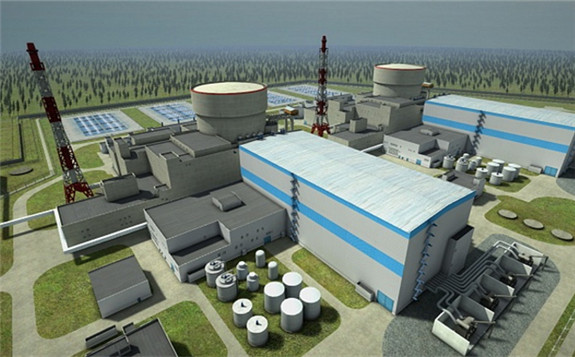 China National Nuclear Power (CNNP) - a subsidiary of China National Nuclear Corporation (CNNC) - announced the start of construction of Xudabao 3 in a 1 August statement to the Shanghai Stock Exchange. CNNP noted that following the pouring of first concrete for Xudabao 3, it now has 6 reactors under construction, with an installed capacity of 6.258 million kilowatts.
In June 2018, Russia and China signed four agreements, including for the construction of two VVER-1200 reactors as units 7 and 8 of the Tianwan plant in Jiangsu province. In addition, two further VVER-1200 units were to be constructed at the new Xudabao (also known as Xudapu) site in Huludao, Liaoning province.
Agreements signed in June 2019 included a general contract for the construction of Xudabao units 3 and 4, as well as a contract for the supply of nuclear fuel. Rosatom will design the nuclear island and supply key equipment, as well as provide field supervision, installation supervision, and commissioning services for the supplied equipment. Turbine generators and balance of plant will be supplied by China. The units are expected to be commissioned in 2027-2028.
In February this year, Russia's Atommash announced it had begun the manufacture of major components for Xudabao 3. The company will manufacture and deliver two VVER-1200 reactors, two sets of steam generators, the reactor cooling pumps, the main circulation piping and two pressurisers.
Work on Tianwan 7 and 8 and Xudabao 3 and 4 was launched on 19 May at a ceremony attended via video-link by Chinese President Xi Jinping and Russian President Vladimir Putin. The ceremony included the pouring of first concrete for Tianwan 7.
The CNY110 billion (USD17 billion) Xudabao project was originally expected to comprise six Chinese-designed CAP1000 reactors, with units 1 and 2 in the first phase. Site preparation began in November 2010. The National Development and Reform Commission gave its approval for the project in January 2011. China's National Nuclear Safety Administration announced its approval of the site selection for Xudabao units 1 and 2 in April 2014. However, construction of those units has yet to start. Construction of unit 4 is expected to begin next year.
The Xudabao plant is owned by Liaoning Nuclear Power Company Limited, a joint venture between CNNC (70%), Datang International Power Generation Company (20%) and State Development and Investment Corporation (10%).