Four Illinois nuclear plants at risk of permanent closure are between them approaching an uninterrupted "streak" of 15,000 days of continuous service at a time when the US energy grid is "increasingly challenged" by extreme heat and storms, Exelon said yesterday. With the first closures scheduled to take place in September, policymakers are continuing efforts to preserve the plants.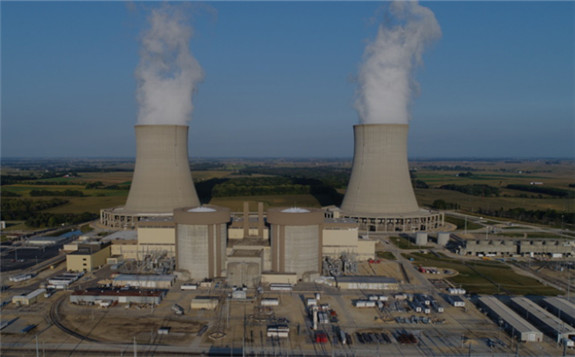 The two-unit Byron plant reached 5000 consecutive days online last week, the company said, while Dresden reached 4260 consecutive days during the same period, with Braidwood (3975 days) and LaSalle Station (1603 days) adding to a run that is approaching the equivalent of 41 years of uninterrupted service. The four plants together provide more than two-thirds of Illinois' carbon-free energy, Exelon said.
In total, six nuclear plants - Braidwood, Byron, Clinton, Dresden, La Salle and Quad Cities - provide 90% of the state's clean energy, and complement other clean energy resources. The company said they run "close to 100%" of the time in summer and winter when electricity use is high, while solar averages 20% and wind 30%.
"Powering Illinois with clean energy 24 hours a day, seven days a week is a hallmark of our zero-carbon nuclear fleet," Exelon Generation Chief Nuclear Officer Dave Rhoades said.
Low power prices and market rules giving fossil-fuel power plants an "unfair advantage" prompted Exelon in 2019 to announce that it would retire the two-unit Byron and Dresden nuclear power plants this year, if the state did not pass policy reforms to support their continued operation. Byron's two units are now scheduled to shut in September and Dresden's in November. The Braidwood and LaSalle nuclear plants also are at high risk of premature retirement in the near term, the company said.
Lawmakers failed to reach agreement on clean energy legislation that would have enabled the plants to continue operating before the end of their last legislative session, although the bill could still pass later this summer.
"The importance of reliable, carbon-free energy has been accentuated by the prevalence of extreme weather brought on by climate change, forcing policymakers to confront difficult decisions about the future of clean energy in Illinois and across the nation," Exelon said. "With just weeks to go before the first of the plants permanently closes, policymakers continue working on legislation that would preserve the plants as part of a comprehensive plan to maintain and grow clean-energy jobs, keep energy bills affordable and achieve net-zero emissions by 2050."
The closure of Byron and Dresden will result in a cumulative increase in CO2 emissions of more than 100 million tonnes over the next decade, even after taking into account a proposed increase in renewables, the company said. The additional emissions would be caused by the regional grid operator dispatching fossil generation to make up for the lost zero-carbon energy coming from the nuclear plants.
The four Chicago-area plants support 28,000 direct and indirect jobs and contribute USD3.5 billion annually to the state's economy, Exelon said.
"These nuclear plants provide everything residents have asked for: jobs, reliable and environmentally friendly power generation and a solid tax base for local communities," Sarah Downs, executive director of the Byron Area Chamber of Commerce, said. "Other states wish they had this much baseload, carbon-free energy to power their businesses and homes."
Illinois Senator Sue Rezin on 14 July said there has been "little movement" on the energy bill since May despite several meetings between stakeholders. "However, we need to recognise how vital nuclear energy is to our state's energy portfolio, as well as our local communities, and pass legislation that treats nuclear as the clean source of energy it is before we run out of time," she tweeted.