Korea Hydro & Nuclear Power (KHNP) held a building completion ceremony on July 2 for Incheon Fuel Cell Power Plant. The Incheon Fuel Cell Power is KHNP's subsidiary located in Dong-gu, Incheon.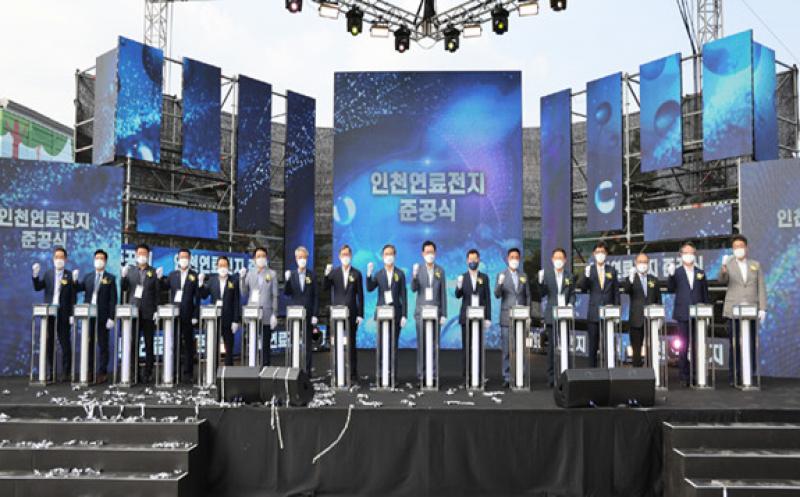 About 100 officials and local residents attended the ceremony, including KHNP President Chung Jae-hoon, Vice Minister of Trade, Industry and Energy Park Jin-kyu, and Incheon Mayor Park Nam-chun.
"Every country in the world is rapidly moving toward a hydrogen society," said Chung Jae-hoon, president of KHNP. "The important axis is the hydrogen fuel cell power plant, and KHNP will make efforts to realize energy welfare in the community based on its experience in hydrogen fuel cell power generation projects."
The Incheon Fuel Cell Power Plant is a 39.6MW power generation facility that invested about 254.3 billion won as part of its plan to expand the supply of urban eco-friendly energy.
The power plant will consist of 90 440kW fuel cells from Doosan Pure Cells, producing about 320 millionkWh of electricity for a total of 110,000 households, including 28,000 households in Dong-gu, Incheon and 82,000 households in Michuhol-gu.
It will produce 164,000 Gcal of heat that can be used by 26,000 households in Dong-gu. The completion of the Incheon fuel cell is the first project in Korea that has been successfully constructed by a public-private consultative body.
Fuel cells are one of the two pillars of the leading hydrogen economy industry announced by the government along with hydrogen cars. Even if it is installed on a small scale near the city center, which uses a lot of power, it produces a large amount of electricity and heat and provides it to nearby areas.