A video of a solar thermal power plant sending blessings on the 100th anniversary of founding of the Communist Party of China (CPC) went viral on China's Twitter-like Sina Weibo on Friday, which was praised by netizens as both hardcore and romantic.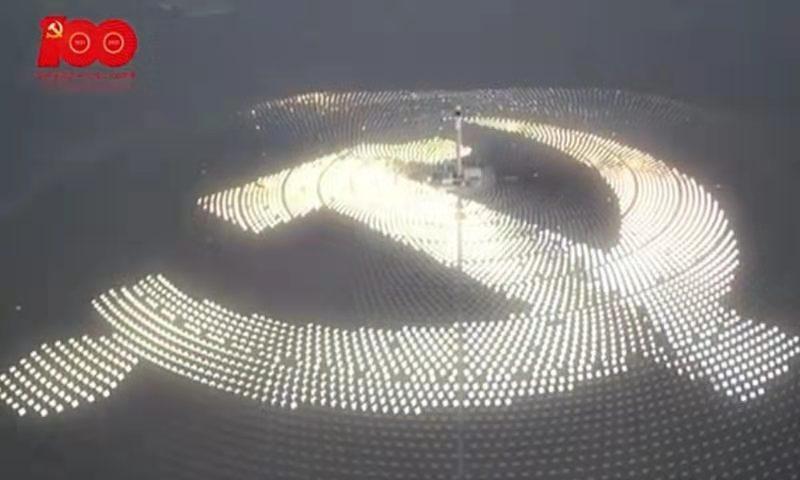 The celebration of the CPC's 100th birthday was held at Tiananmen Square in Beijing on Thursday, with other celebration performances held nationwide. The molten-salt solar thermal power plant in the Gobi Desert in Dunhuang, Northwest China's Gansu Province was one of them.

As showed in the video, large subtitles and patterns, such as "Warmly Celebrate the 100th Anniversary of the Founding of the CPC," "Long Live the CPC" and the emblem of the CPC, formed by thousands of solar mirrors, were golden, shining and magnificent in the sunlight.

According to the official WeChat account of Dunhuang municipal government, the video shows the 8-square-kilometer molten-salt solar thermal power station in the Dunhuang Optoelectronics Industrial Park.

Like sunflowers, more than 12,000 pentagonal mirrors - arranged in concentric circles ¬- automatically track the sun, reflecting and concentrating beams of sunlight onto the central heat absorption tower.

When operating at full capacity, it can generate 100,000 kilowatt-hours of electricity per hour, enabling one million 100-watt light bulbs to work for an hour, said Liu Fuguo, general manager of the station, Xinhua News Agency reported.

The power station entered into operation in December 2018 and is designed with an annual capacity of 390 million kilowatt-hours. It is the largest solar thermal power station in China and even in Asia.

Compared with coal-fired power generation, the solar plant can reduce emissions of 350,000 tons of carbon dioxide, equivalent to the environmental benefits of 10,000 mu (666.7 hectares) of forest.

Netizens commented under the video, saying it is cyberpunk style romance with hardcore technologies.

The tag "Chinese style romance" attracted 650 million reads on Sina Weibo as of Friday morning.

Under the topic, netizens listed several celebration performances, including drone performances, and space stations named after Chinese myths. For instance, a fleet of 2,021 drones formed a huge Party flag that fluttered slowly over Shenzhen in South China's Guangdong Province.

"Chinese romance is the strong sense of national pride and patriotism of the Chinese people," one netizen said.